Michael Eric Dyson: We Have 'Moral Obligation' to Protest Trump at GOP Convention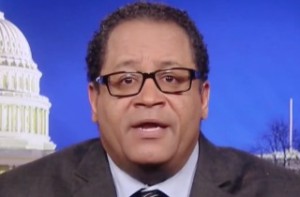 Georgetown professor and political commentator Michael Eric Dyson declared this week that Americans have a "moral obligation" to protest Donald Trump at the Republican National Convention in Cleveland next month.
In a piece for The New Republic, Dyson writes that "Cleveland, the convention, is where we must begin to make our stand against Trump and the malignancy he represents" to make it clear people are not happy that a major political party has chosen a "racist demagogue for president."
"We protest," he said, "to proclaim the man's moral repugnance and political illegitimacy. It is an opportunity, with the whole world watching, to declare Donald Trump the worst of the American political mind and soul."
And while Dyson cautioned against alienating allies on the right, he thinks the Dr. Frankenstein Republicans who were perfectly fine with Trump "as long as it didn't impact Republican interests" need to be held to account too.
He made it clear multiple times that he is not suggesting violence, but acknowledged things could get violent:
In calling for confrontation, I am probably bringing down the worst violence against my own people, asking them—us—to stand in the vanguard of challenging bias and hatred. The penalties will be higher for my people than for others. But then, there is nothing new in that…

What injury may come seems meager in comparison to the social violence that Trump's election portends. No more compelling is the belief that street protest at the convention could cause even greater divides throughout the country. The racism, misogyny, and nativism that would be unleashed during a Trump administration would be far worse than any conflict that could arise from legitimate protest.
You can read Dyson's full post here.
[image via screengrab]
— —
Follow Josh Feldman on Twitter: @feldmaniac
Have a tip we should know? tips@mediaite.com
Josh Feldman - Senior Editor