Michael Moore Swooped In When Feds 'Threatened' To Deport Oscar-Nominated Palestinian Director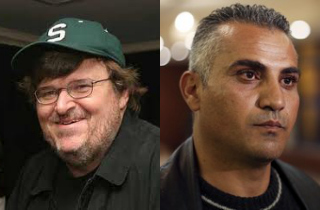 After an Oscar-nominated Palestinian director was reportedly detained and threatened with deportation by federal agents at Los Angeles International Airport, documentarian Michael Moore claims to have swooped in and prevented any such actions.
Wednesday morning, the award-winning liberal director of Bowling for Columbine tweeted that Emad Burnat, director of Oscar-nominated documentary 5 Broken Cameras, had been detained by Immigration and Customs Enforcement officials at LAX late Tuesday.
Burnat and his 8-year-old son were "told they didn't have the proper invitation to attend the Oscars" and were kept in a holding pen, according to Moore. He also added that the filmmaker, whose film is critical of the Israeli West Bank settlements, was being threatened with deportation back to Palestine.
Moore continued to tell the story via Twitter: "Apparently the Immigration & Customs officers couldn't understand how a Palestinian could be an Oscar nominee. Emad texted me for help."
Burnat was attempting to get into Los Angeles to attend this weekend's Academy Awards. 5 Broken Cameras is nominated for a Best Documentary award, and has received favorable press from other documentarians including Moore himself. The nomination marks the first time a Palestinian film is up for an Oscar.
Moore explained that upon hearing from Burnat, he intervened: "I called Academy officials who called lawyers. I told Emad to give the officers my phone # and to say my name a couple of times."
"After 1.5 hrs, they decided to release him & his family & told him he could stay in LA for the week & go to the Oscars. Welcome to America," he tweeted.
[h/t RawStory]
— —
>> Follow Andrew Kirell (@AndrewKirell) on Twitter
Have a tip we should know? tips@mediaite.com