Michael Savage Trashes 'Fake Conservative' Hannity: 'One Of The Most Shallow Men In Media'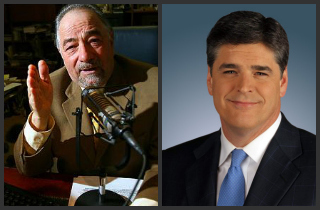 Unbeknownst to those Americans who do not listen to conservative talk radio, there exists a long-standing feud between some of the most well-known names in the business. The most widely-known battle has been between Mark Levin and The Savage Nation host Michael Savage — the two have had it out over a variety of issues, including claims of who has greater listenership.
It seems as though Savage also has beef with Levin's good friend Sean Hannity, mostly on the grounds that the Fox News host is a "fake conservative." On his Monday evening show, Savage took to bashing Hannity for what he believes is the cable news host's desire to go to war with Syria.
"Some of the so-called conservatives are in favor of American men dying," Savage began. "For example… Sean Hannity — who is known to be one of the, let us say, most shallow men in the America media, who gives conservatism its reputation of being shallow — back in 2012, called for war in Syria."
Reacting to the old Fox clip in which Hannity decried the "prescription for disaster" seen in Syria now that the regime has the capabilities to use chemical weapons, Savage said: "You're like a bad pharmacist. And if anyone takes your pill, they're liable to get poisoned rather than cured. Because what you're doing there is putting out so many ideas that are fraudulent that it gives true conservatives a bad name."
Savage then went on to lambast "another fake conservative" Sen. Lindsey Graham (R-SC), and mock him as a "gun for hire" and "super-lobbyist" for "American boys dying" in a potential conflict with Syria.
Listen to the audio below, as clipped by MofoPolitics:
— —
>> Follow Andrew Kirell (@AndrewKirell) on Twitter
Have a tip we should know? tips@mediaite.com