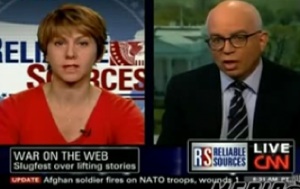 The growing battle over content aggregation, web ethics and linking legality between TheWrap's Sharon Waxman and Newser's Michael Wolff continued this morning on CNN's Reliable Sources.
Howard Kurtz served as "referee," but the battle was mostly a rehash of both sides' talking points.
Waxman led off, summing up her point of view as "just give us proper credit and linkage or don't use our content, and that seems to be a problem."
Wolff, naturally and unsurprisingly, disagreed, calling the point "bull," and expanding on all the great linkage that occurs at Newser.com. "On every story we've done over two and a half years, there are at least two links to the original and most often three."
That doesn't seem remotely accurate. Without going through the entirety of Newser's content, a glance at the current front page shows most stories contain just one link to the original, and usually by way of one word. This is still the case with the Beyonce post that started the war of words between Waxman and Wolff. If, like Wolff contends, there is at least one more link somewhere in the Newser post back to the original, it has been hidden so thoroughly it is essentially useless.
Then there's the case of the cease-and-desist letter sent by Waxman, which Wolff essentially laughed at. "Man up and sue us, any time," he said. (Or, design your own cease-and-desist letter!)
Wolff apparently thinks he saw the judges' scorecard and came out victorious. "Damn that was easy," he tweeted. He certainly said more words than Waxman, interrupting her throughout the entire segment. It was quite an un-Newser-like way to argue.
Check it out, and decide for yourself:

—–
» Follow Steve Krakauer on Twitter
Have a tip we should know? tips@mediaite.com