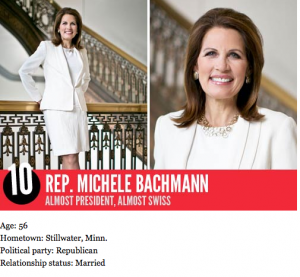 TheHill.com has published its annual list of the most beautiful people working on Capitol Hill. A shallow endeavor? Sure, whatever. As Andy Warhol once said while sitting on a chaise lounge made of pretty Hill interns doused in glitter, "I am a deeply superficial person." Plus, come on, guys. Let the place widely known as "Hollywood for ugly people" get its due as a festering Hell hole that occasionally houses an attractive face or fifty.
From Rep. Randy Forbes' special assistant Carolyn Amirpasaie (dubbed the "Capitol Hill Kardashian"), to potential Romney running mate Kelly Ayote, to headline-churning former GOP presidential hopeful Michele Bachman, the list includes not only a short blurb about each person, but also each one's marital status, in case you're a fan of striking it out big.
Here's what the list had to say about what is arguably its most well-known name:
In terms of style, Rep. Michele Bachmann (R-Minn.) has come a long way. For a 2008 story on congressional wardrobes, she told The Hill, "I'm a bottom-feeder when it comes to clothes shopping," and described her strategy as going for "markdown, markdown, markdown, and then 80 percent off of that."

But nothing about her presidential-campaign wardrobe looked bargain-basement. Not only did she hire Fox News Channel makeup artist Tamara Robertson for her 2012 bid, she also debuted a sleeker, trendier hairdo that inspired attention from the likes of the New York Daily News, which ran an article last year on women asking their hairdressers to replicate Bachmann's look. She also made noise — literally — wearing a French manicure that clicked and clacked on the podiums of the GOP primary's many debates. Bachmann was a chic version of her Capitol Hill self while on the national stage this past year.
By our count, the list included 21 lovely Republicans, 21 gorgeous Democrats, 2 sexy Independents, 1 hot Libertarian, 4 comely Nonpartisans, and one beautiful self-described Moderate. Topping the list as the hottest of the hottest is former model Max Engling, who is, yes, kinda good-looking. Just slightly.
Do feel free to use the comments to complain about how useless and unnecessary a list about looks is in politics, you jealous haters.
h/t TheHill
Have a tip we should know? tips@mediaite.com