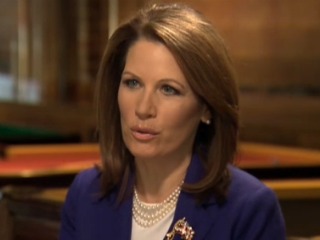 Thursday night, Fox News' Greta Van Susteren sat down with Congresswoman Michele Bachmann to discuss various topics, perhaps most notably the Solyndra scandal.
RELATED: Solyndra Executives Plead The 5th Throughout Congressional Hearing
Van Susteren posted the full, 17+ minute interview on her blog, but we'll try to hit some of the highlights. Van Susteren kicked things off by asking Bachmann about Secretary of Energy Steven Chu's recent testimony concerning the White House's ties to the failed Solyndra corporation, particularly its decision to hand the company a tax payer-funded loan. "This is the height of crony capitalism," was Bachmann's assessment. "This is President Obama's political donors that he's paying off and essentially with the President, he put one of his fundraisers into the energy department to point out which of the loans should be made to which person that gave political donations to the President." She added that "this is dirty in evry single aspect."
"I think that's criminal. It's morally and ethically bankrupt," Bachmann later continued, referring to the Obama White House's continued missteps (Solyndra and LightSquared being but two examples), "but it's also criminal."
RELATED: Gen. Shelton: 'Asked To Say Things I Didn't Agree With' On Dem Donor's Company
Van Susteren noted that she uses the term "criminal" loosely and often, before asking Bachmann if she was using the term "in a flip sense" or "do you generally believe there is a violation of the code, the criminal code?"
"I genuinely believe that it's wrong, Greta" Bachmann responded, adding that it would be "up to the people in justice" to ultimately decide whether the White House's actions constitute actual crimes.
Have a look at the full interview, courtesy of Fox News and GretaWire.com:
h/t GretaWire.com
Have a tip we should know? tips@mediaite.com