Michelle Obama Answers Adorable Children's Calls To NORAD About Santa's Whereabouts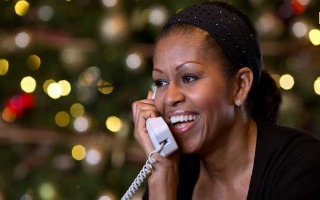 First lady Michelle Obama made more than few children happy this Christmas season: she put in some time answering calls to NORAD from kids looking for updates on Santa's journey.
This is the third time she's participated in NORAD's program. Her standard greeting is, "Hello, this is First Lady Michelle Obama with NORAD Tracks Santa. How may I help you?" She lets children know about Santa's progress and when to expect him at their homes.
She loves to participate, saying,
"This is such a wonderful holiday tradition, and I'm always so thrilled to be a part of it. I love hearing the excitement and anticipation in the children's voices as they learn Santa's location – that's what brings the magic of this night to life for all of us."
POLITICO has the transcript of a call Mrs. Obama fielded from a boy named Anthony in Texas, who didn't care about Santa and just wanted a visit from the First Lady herself!
ANTHONY: Can you come visit me in Texas?

MRS. OBAMA: Yeah, [Santa's] heading your way. He's heading your way. But you know what, Santa doesn't come until you're fast asleep. You do know that, right?

ANTHONY: Yeah, I was talking about you trying to visit me.

MRS. OBAMA: Oh, me come to visit you. (Laughter.) Well, I don't know if I'm going to be able to come and visit before Christmas tomorrow, but if ever I find myself in Texas next year — and I know I'm going to be coming to Texas one time next year — hopefully we can see each other then. How does that sound?

ANTHONY: Will you come to my house?

MRS. OBAMA: Yeah, I don't know if I can come to your house. I might not be able to do that. But I'll be keeping an eye on you, though.

ANTHONY: How about my school?

MRS. OBAMA: Your school — maybe your school. What school do you go to?

ANTHONY: (Inaudible).

MRS. OBAMA: All right, well, I'm going to tell my assistant right now. What part of Texas are you from?

ANTHONY: Fort Worth.

MRS. OBAMA: You're at Fort Worth? I was in Fort Worth last year. So maybe we can come back. But until then, I want you to have a merry Christmas, okay Anthony?

ANTHONY: Okay.

MRS. OBAMA: All right, you give your family my best — what did you say, babe?

ANTHONY: Can I talk to your husband?

MRS. OBAMA: He's not here right now. (Laughter.) But you know what, I will tell him that you asked about him. Okay?

ANTHONY: Okay.

MRS. OBAMA: All right. You keep being a good kid. Work hard in school, okay?

ANTHONY: Okay. Tell your daughters I said Merry Christmas.

MRS. OBAMA: I sure will. Thank you so much. You give your family my best, okay? You give them all a Merry Christmas from all of the Obamas, okay?

ANTHONY: Okay. Thank you…
h/t POLITICO
Have a tip we should know? tips@mediaite.com