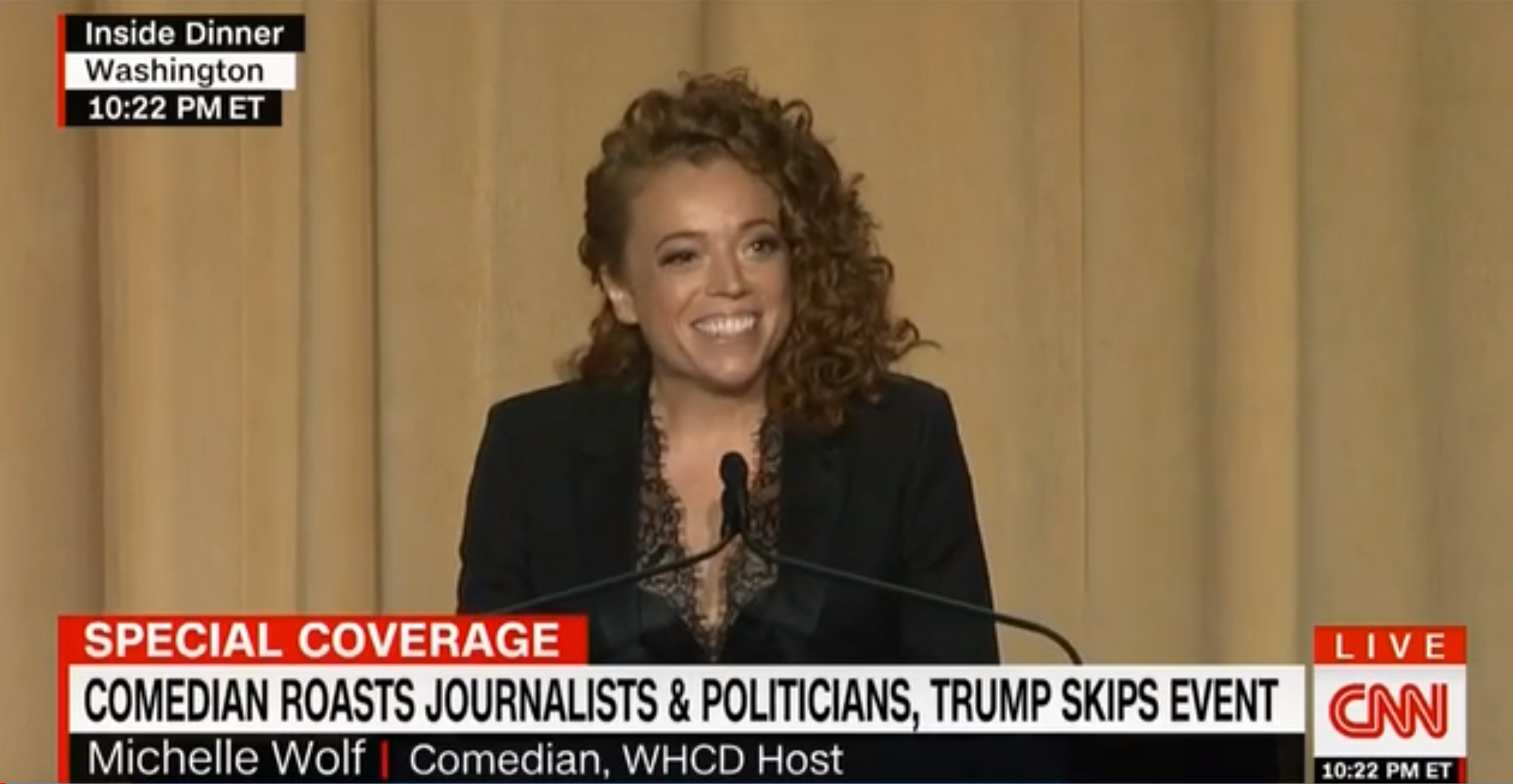 Saturday's White House Correspondents' Dinner host Michelle Wolf threw some comedic punches at Press Secretary Sarah Sanders and others during the event, and now she's faced with taking the resulting backlash on the chin.
One of the first to denounce the derision, which was partly evoked by comments on everything from Sanders' eye makeup to the sound of her name, was the man she replaced, ex-Press Secretary Sean Spicer.
Tonight's #WHCD was a disgrace

— Sean Spicer (@seanspicer) April 29, 2018
Appearing unfazed, Wolf responded to the short remark with an even shorter "Thank you!"
Thank you! https://t.co/0Nsx5ZBj8c

— Michelle Wolf (@michelleisawolf) April 29, 2018
The New York Times' Maggie Haberman, a recent Pulitzer winner known for in-depth coverage of the White House, also called out the jokes, adding that seeing Sanders remain in the room "was impressive."
That @PressSec sat and absorbed intense criticism of her physical appearance, her job performance, and so forth, instead of walking out, on national television, was impressive.

— Maggie Haberman (@maggieNYT) April 29, 2018

But Wolf defended the jabs, saying they were only about Sanders' "despicable behavior," despite having directly commented on her looks. "Sounds like you have some thoughts about her looks though?" she asked.
Hey mags! All these jokes were about her despicable behavior. Sounds like you have some thoughts about her looks though? ? https://t.co/JRzzvhBuey

— Michelle Wolf (@michelleisawolf) April 29, 2018
Even MSNBC's Mika Brzezinski, who co-hosts the network's Morning Joe program, fired back at Wolf's routine, saying it was deplorable. But again, Wolf made light of the matter, brushing it off with another pun.
Watching a wife and mother be humiliated on national television for her looks is deplorable. I have experienced insults about my appearance from the president. All women have a duty to unite when these attacks happen and the WHCA owes Sarah an apology.

— Mika Brzezinski (@morningmika) April 29, 2018
Why are you guys making this about Sarah's looks? I said she burns facts and uses the ash to create a *perfect* smoky eye. I complimented her eye makeup and her ingenuity of materials. https://t.co/slII9TYdYx

— Michelle Wolf (@michelleisawolf) April 29, 2018
However, Saturday night's tweets were only the start of the flood of angered reactions to come, raising a debate over whether some of Wolf's remarks went too far. While certain critics say the comedian's routine was over-the-top, others have noted the president's treatment of his adversaries, a list which has included women, minorities, journalists and other politicians, has been just as offensive if not more so.
[Image via screengrab]
Follow Amy Russo on Twitter: @amymrusso
Have a tip we should know? tips@mediaite.com