Middle School Students Kicked Out Of 9/11 Memorial Site After Throwing Trash In Fountains
Students Kicked Out Of 9/11 Memorial Site After Throwing Trash In Fountains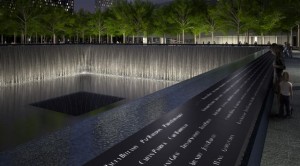 If the story last week about the middle school students bullying a bus monitor riled you up about young people these days, this might make you angrier. Middle school students in New York went on a field trip to the 9/11 memorial site and were subsequently kicked out after several of them were caught throwing trash in the fountains. And on top of that, one of the students got in trouble for having bullets in his pocket as they went through the metal detector.
RELATED: Glenn Beck Tears Into Middle Schoolers In Bus Video: 'The Kids In This Video Are Dead Inside'
One of the students told the New York Daily News that his classmates were throwing baseballs in the fountains, while nearby witnesses said they saw "plastic soda bottles and other refuse" thrown in as well. A school teacher who was visiting the memorial at the time said what they did was "an absolute disgrace" and the students "need to be taught to be respectful."
The situation is apparently so serious that, according to the Daily News, officials from the Department of Education are investigating the matter. The head of the Uniformed Fire Officers Association said, "It is really so sad that anyone would disrespect the souls that were lost in the terrorist attacks back on 9/11." One of the students gave this response:
"No one was disrespecting. It wasn't nothing like that… No one was being serious. Everyone was kind of bored and it was just something to do."
The youth of America, ladies and gentlemen. And one kid who spoke anonymously revealed that a classmate was caught with ammunition in his pocket.
"The kid had three bullets when they went through the metal detector," said a JHS 292 student who wouldn't give his name because he feared the other kids might take revenge.

"All the kids saw the cops come and take the bullets," the boy added.

Police said they discovered three .33-caliber rounds in a plastic bin in the security area of the monument on Thursday, but they did not make any arrests.
h/t NY Daily News
–––––
Follow Josh Feldman on Twitter: @feldmaniac
Have a tip we should know? [email protected]
Josh Feldman - Senior Editor