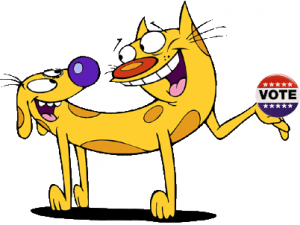 Two people living in Virginia Beach received some rather unusual mail from a nonprofit group this month: voter registration forms addressed to household pets. One of them was addressed to a cat named Scampers, the other was to a dog named Mozart who died two years ago. Pet out the vote!
RELATED: James O'Keefe's Latest Sting Video Shows Man Attempting To Vote Under Eric Holder's Name
According to The Washington Post, the forms were sent by the Voter Participation Center, a nonprofit group based in D.C. dedicated to increasing voter turnout. The pets' names must have been used in some other capacity, the group explains, as they get mailing lists from vendors. Last week Media Matters detailed how Fox News was playing up the story as a serious problem regarding voter ID laws. The president of the Voter Participation Center released a statement criticizing the media for blowing the story out of proportion.
"What is a real concern is that a simple piece of mail – an understandable mistake – has gotten so much attention and created a bogus 'crisis' in this toxic atmosphere designed to discourage citizens from registering and voting to make our democracy stronger and healthier."
For what it's worth, the owners of the animals in question have kept a good sense of humor about the misunderstanding. The owner of the dead dog said his first reaction was to laugh. Meanwhile, the owner of Scampers the cat told a local NBC affiliate, "Some said Republicat, some said Democat, and I thought, well he would have voted for Paw-lenty if he would have stayed in the race."
She added that the mistaken mailing could end up helping promote get-out-the-vote effort, offering to make Scampers a "spokescat" for voter participation.
h/t WaPo
Have a tip we should know? tips@mediaite.com
Josh Feldman - Senior Editor