Mike Huckabee Slams 'Worthless' Bette Midler: 'Gender Has Nothing to do With Terrorism'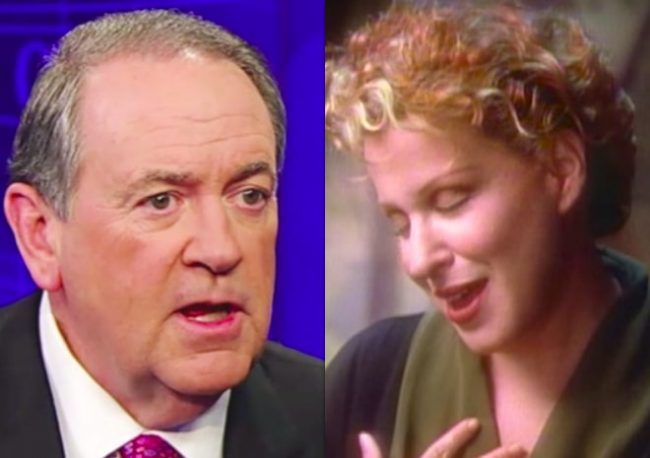 Mike Huckabee is very angry at… Bette Midler.
Yes, really. The Hocus Pocus star currently featuring in a revival of Broadway's Hello Dolly found herself in the former governor's crosshairs by tweeting after the most recent terrorist attack in London that "Men and religion are worthless."
More sorrow and grief at the hands of madmen in London. Men and religion are worthless.

— Bette Midler (@BetteMidler) June 3, 2017
It didn't sit well with the governor, who blasted out a blog post on his personal website Monday to denounce the claim. In the bluntly titled. "Bette Midler Is Worthless," Huckabee slammed the "virtue-signaling" star saying, "gender has nothing to do with terrorism."
Per Huck:
First of all, gender has nothing to do with terrorism. Women have been known to strap bombs to themselves and even to their children. Second, many brave men ran toward the attackers to stop them and help their victims, from the police and paramedics to the civilians who threw bottles and chairs to deter the murderers
The former governor also managed to work in a plug to American gun culture and the NRA by repeating one of the group's most popular talking points, that if the British had been armed, the "good guys" would have prevailed earlier."Sadly, unlike in America, there were no good guys with concealed carry permits nearby, since the UK government disarmed them all so that mass killings would be eradicated. That worked out well, didn't it?"
You can go read the full post on his website — and leave a comment. The governor says he reads them!
[image via screengrab]
Have a tip we should know? tips@mediaite.com