Mike Pence's Stoic Reaction During Oval Office Meltdown Sparks Memes, Questions: Is This 'Weekend at Bernie's?'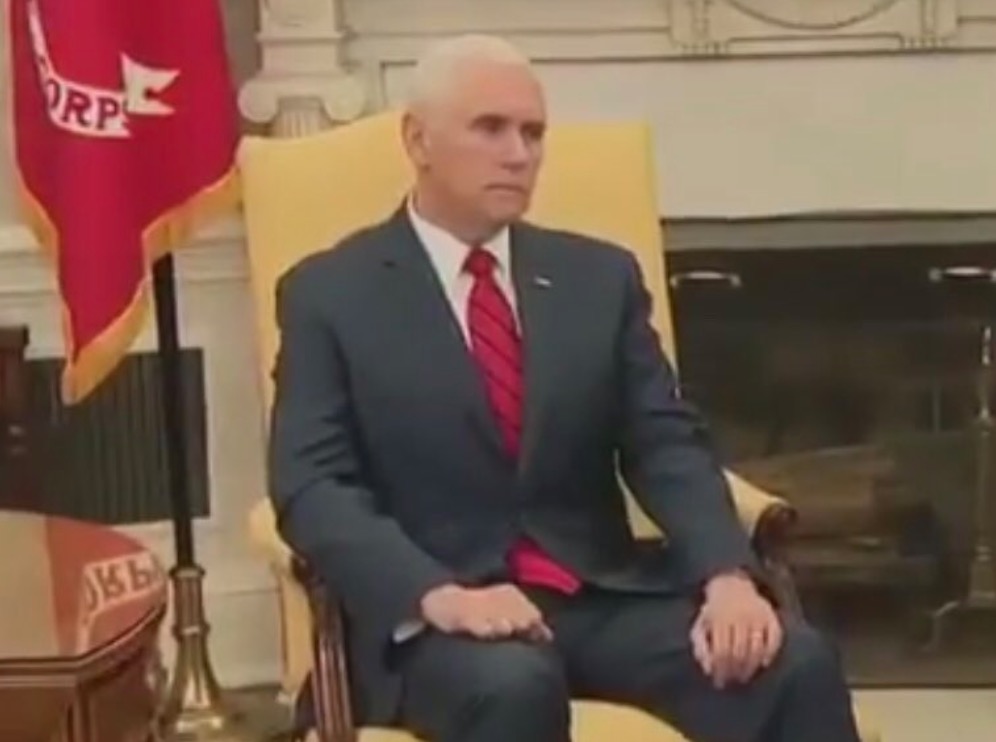 President Donald Trump hosted a remarkably contentious Oval Office meeting with Senate Minority Leader Chuck Schumer (D-NY) and House Minority Leader Nancy Pelosi (D-CA).
Also in attendance was Vice President Mike Pence, whose calm and stoic demeanor stood out from the remarkably political bickering and fireworks.
Users of the social platform known as "Twitter" took notice of the Vice President's motionless behavior, and crafted various jokes, which have been embedded below for your reading pleasure.
This image of Pence says so much. Via Reuters. pic.twitter.com/Ju4TqFno50

— Kathryn Watson (@kathrynw5) December 11, 2018
This is horrifying! Trump, Pelosi, and Schumer are just carrying on arguing as if Mike Pence is still alive! Somebody help him!

— Mark Harris (@MarkHarrisNYC) December 11, 2018
Pence checking his nonexistent watch for 2020 pic.twitter.com/UPE3xKbQSd

— Scott Gustin (@ScottGustin) December 11, 2018
Sibling argument at Christmastime, colorized pic.twitter.com/ACsVWKVU6j

— TheBlaze (@theblaze) December 11, 2018
Dear @CNN & Jeff Zucker, I want to watch nothing but this "Trump, Pelosi and Schumer" multiple car wreck video on a loop all day. And I need close-ups of Pence's face. Over and over. Please, please, please.

— Ana Navarro (@ananavarro) December 11, 2018
mike pence is the worst member of this improv team

— Sopan Deb (@SopanDeb) December 11, 2018
I mean, would *you* insert yourself into this if you were Mike Pence?

— McKay Coppins (@mckaycoppins) December 11, 2018
This photo was really from the Trump-Pelosi-Schumer fight today. Can someone please check to see if Mike Pence is actually still alive or is this a "Weekend at Bernies" type scenario where they just prop up Pence at meetings. pic.twitter.com/EX1qJvP5ft

— (((DeanObeidallah))) (@DeanObeidallah) December 11, 2018
Mike Pence now: pic.twitter.com/2fXSoc10FQ

— The Reagan Battalion (@ReaganBattalion) December 11, 2018
We go live to Mike Pence pic.twitter.com/hWOo3qLemu

— Jessica Huseman (@JessicaHuseman) December 11, 2018
.@PeterAlexander: All Americans feel like Mike Pence right there sitting there speechless as he watched it play out as he held a smile on his face #AMR

— Andrea Mitchell (@mitchellreports) December 11, 2018
mike pence honestly looks like he's about 10 seconds from letting out a bat-like screech https://t.co/dbaE7rOKeN

— Ashley Feinberg (@ashleyfeinberg) December 11, 2018
Have a tip we should know? tips@mediaite.com