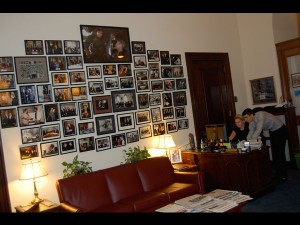 In order to be a successful politician, a person has to exhibit several specific qualities: charisma, poise, a certain degree of shamelessness. Since a politician won't be elected unless she knows how to sell herself, it also helps to have a healthy amount of self-esteem. But some politicians take self-regard to a whole new level—and now, writer Darren Garnick has conducted a semi-scientific study that reveals which elected officials can rightfully be named the vainest of them all.
Garnick, writing for Slate, developed a formula called the Senate Vanity Index to determine which ten senators qualify as that branch of congress's biggest egomaniacs. The algorithm—which, Garnick assures, is based in real math—measures the "the level of egotism displayed in each senator's lobby" by counting "every award and picture on the walls—giving special weight to each senator's poses with celebrities, presidents, and foreign dignitaries."
"We make no claims that our vanity formula is flawless," Garnick admits. He does, however, note that his findings weren't skewed in favor of either major party: "Of the top 10 egos in our rankings, five are Republicans, four are Democrats, and one is an independent who caucuses with the Democrats."
John Kerry gets the dubious honor of being first on Garnick's list. Kerry's wall is covered with 99 pictures of the former presidential candidate hobnobbing with everyone from Bono to Mikhail Gorbachev. He's followed by Arlen Specter, Jim Bunning, and Joe Liebermann, the only Independent to make the list.
Lest his article contain only negative revelations, Garnick also includes a list called "The Humble 25," which is populated by "senators whose office lobbies don't show even a hint of egotism … No ostentatious displays of awards or trophies."
Garnick's slide show is funny, informative, and thought-provoking. We highly recommend that you click through it yourself—if only to see a particularly ridiculous picture of Bunning apparently blessing Pope John Paul II.
Have a tip we should know? tips@mediaite.com