Missouri Politician Who Hoped For Trump's Assassination Now Compares Him to Hitler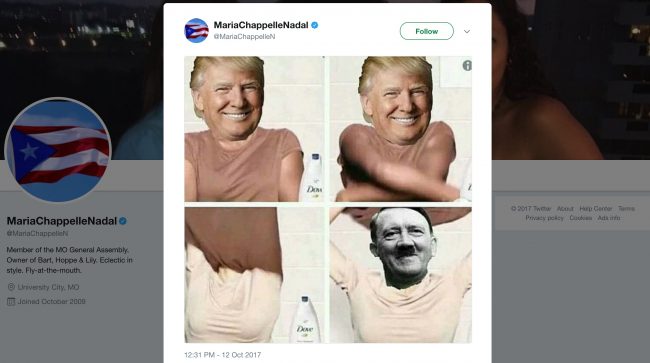 Two months ago, Missouri state senator Maria Chappelle-Nadal said she hopes "Trump is assassinated" — now, she is comparing President Donald Trump to Adolf Hitler.
— MariaChappelleNadal (@MariaChappelleN) October 12, 2017
The Democratic politician made the comparison over Twitter using a highly criticized Dove ad which shows a black woman removing a t-shirt and transform into a white woman. Chappelle-Nadal remixed the ad to show Trump's face superimposed on the first woman only to turn into Hitler after removing the shirt.
According to the St. Louis-Post Dispatch, two GOP politicans from the state have condemned Chappelle-Nadal's actions in public statements — one calling her actions "shameful," another saying her post was "disgusting."
As for her Trump-assassination comments, Chappelle-Nadal ultimately deleted and apologized for wishing death upon the president. However, per the Post-Dispatch, she has issued no such apology for her most recent stunt, instead saying, "I have a First Amendment right to share my opinion, and if a meme is offensive to people, they should look at the First Amendment again."
Additionally, she has deemed Trump responsible for "illness, death, and despair" in Puerto Rico, while adding that Americans will "see more of it in the long-term."
"Puerto Rico deserves to be part of a nation that will not authorize GENOCIDE on its own people," said Chappelle-Nadal in a tweet.
Despite some calling for Chappelle-Nadal to step down over her increasingly inflammatory remarks, she has previously said "I am not resigning" — and if she wouldn't resign over an assassination wish directed at the president, it's safe to assume an offensive meme won't change her mind.
[featured image via screengrab]
Follow Caleb Ecarma on Twitter. 
Have a tip we should know? [email protected]