Mitch McConnell Reportedly Unsure If Trump Will Be Able to 'Salvage' His Administration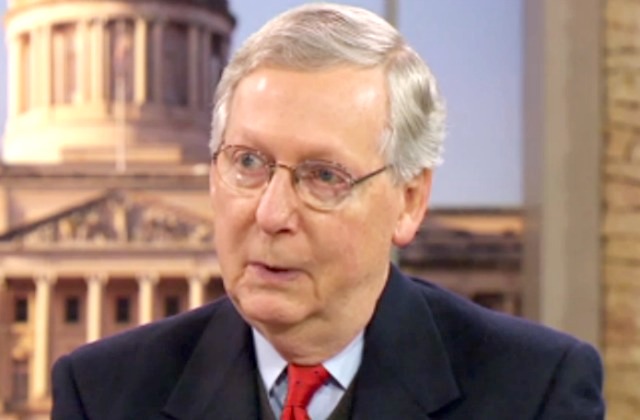 Senate Majority Leader Mitch McConnell has offered a few light criticisms of President Trump in public, but privately he is reportedly very concerned about the President's ability to "salvage" his administration.
The New York Times has a brand-new report out from Alexander Burns and Jonathan Martin on how the relationship between Trump and McConnell has gone from "uneasy" alliance to "a feud of mutual resentment and sometimes outright hostility."
Back in May, McConnell publicly said he would like to see "less drama" from the White House.
Just as a reminder, back in May, Reince Priebus, Sean Spicer, and Steve Bannon were still around, and most people didn't know who Anthony Scaramucci was.
McConnell has also publicly said he's not a big fan of the "daily tweets."
He said that in February.
More recently, McConnell has taken shots at Trump over his "excessive expectations" when it comes to Congress and his cries of "fake news," so it's perhaps not a surprise that he and the President aren't getting along very well right now.
But according to the Times, it's in a pretty bad place right now:
The relationship between President Trump and Senator Mitch McConnell, the majority leader, has disintegrated to the point that they have not spoken to each other in weeks, and Mr. McConnell has privately expressed uncertainty that Mr. Trump will be able to salvage his administration after a series of summer crises…

Angry phone calls and private badmouthing have devolved into open conflict, with the president threatening to oppose Republican senators who cross him, and Mr. McConnell mobilizing to their defense.
After that "excessive expectations" comment, Trump called up McConnell to express his dissatisfaction and reportedly "accused Mr. McConnell of bungling the health care issue." But he also brought up Russia:
He was even more animated about what he intimated was the Senate leader's refusal to protect him from investigations of Russian interference in the 2016 election, according to Republicans briefed on the conversation
And the frustration goes both ways, for per the Times' reporting, McConnell has actually "mused about whether Mr. Trump will be in a position to lead the Republican Party into next year's elections and beyond."
You can read the full Times report here.
[image via screengrab]
— —
Follow Josh Feldman on Twitter: @feldmaniac
Have a tip we should know? tips@mediaite.com
Josh Feldman - Senior Editor