Mitt Romney Decries 'Vast Left-Wing Conspiracy' In Media: Many 'Inclined To Do The President's Bidding'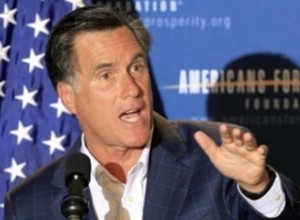 In an interview with Breitbart News' Larry O'Connor on Tuesday, Mitt Romney criticized the media for doing President Obama's bidding. Citing a "vast left-wing conspiracy," Romney said he's facing an uphill battle.
O'Connor said groups like Media Matters and ThinkProgress are coordinating with the Obama campaign. Romney responded:
"There will be an effort by the, quote, vast left-wing conspiracy to work together to put out their message and to attack me. They're going to do everything they can to divert from the message people care about, which is a growing economy that creates more jobs and rising incomes. That's what people care about."
Romney added: "Many in the media are inclined to do the president's bidding and I know that's an uphill battle we fight with the media generally." Over the weekend, Romney offered praise for Fox News, saying "true believers" watch the network — also speaking kindly of CNN's Wolf Blitzer.
The remark, as several have pointed out, is reminiscent of Hillary Clinton's "vast right-wing conspiracy" in 1998, when Bill Clinton was facing his infamous scandal. On NBC's Today Show, Clinton, who was then the First Lady, said: "I mean, look at the very people who are involved in this — they have popped up in other settings. This is — the great story here for anybody willing to find it and write about it and explain it is this vast right-wing conspiracy that has been conspiring against my husband since the day he announced for president."
Have a listen, via Breitbart.com:

Have a tip we should know? [email protected]