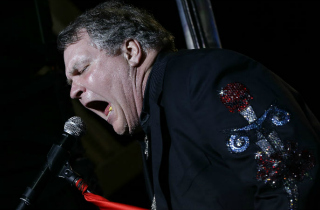 Like a bat out of hell, Barack Obama will be gone when November 7th comes.
At least if Meat Loaf gets his way.
The aging hard-rocker took to a Defiance, Ohio, rally Thursday evening to give his full endorsement of Republican presidential nominee Mitt Romney.
According to The Washington Post, the legendary food-item-named man behind the karaoke staple Bat Out of Hell told the crowd: "There has storm clouds come over the United States."
If that doesn't make any sense, fear not. He continued: "There is thunderstorms over Europe. There are hail storms – and I mean major hail storms – in the Middle East. There are storms brewing through China, through Asia, through everywhere, and there's only one man that on the other night when President Barack Obama, God bless him, said to Mitt Romney, 'The Cold War is over.'"
According to Meat Loaf, the Cold War is most certainly not over, and we need to hit the terrorists — or the Russians? — like a battering ram (on a silver black phantom bike).
He then led a call-and-response chant with the audience: "Let me hear y'all repeat after me. Mitt Romney!… 'Cause he can stand in the storm."
The rocker also got in on the Meat Loaf pun game, telling the crowd: "I made three phone calls today to Democrats in California and I got two of them to switch to Romney, so two out of three ain't bad."
He also gave a resounding endorsement of VP pick Paul Ryan: "I want you to know, at 65, that Paul Ryan has not pushed me off the cliff in a wheelchair," he said.
As for the actual pre-Romney performance, Mr. Loaf reportedly played several deep cuts, but none of his biggest hits. Apparently he would do anything for Romney, but he won't do that. Forgive me, Internet.
But he did hilariously lend his (not-so-)operatic vocals to a rendition of "America the Beautiful," with the help of Romney, Randy Owen of the band Alabama, and country stars Big and Rich.
Watch that bizarreness below, via CNN:

— —
>> Follow Andrew Kirell (@AndrewKirell) on Twitter
Have a tip we should know? tips@mediaite.com