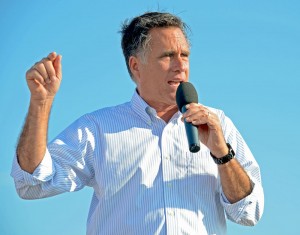 Like every other decent human being with a Twitter account, former Massachusetts governor and GOP presidential candidate Mitt Romney tweeted his condolences the morning after the deadly Charleston church shooting in South Carolina took place on Wednesday night.
However, its Romney's new tweet on Saturday morning that's sending waves throughout online conservative circles — not to mention everyone else who's been paying attention to South Carolina's renewed state flag controversy.
Here's Romney's first tweet about Charleston:
Heaven weeps again today, this time for God's children killed in His Charleston house of prayer.

— Mitt Romney (@MittRomney) June 18, 2015
And here's his proverbial "dipping of the toe" into the torrential waters of states' rights and racism:
Take down the #ConfederateFlag at the SC Capitol. To many, it is a symbol of racial hatred. Remove it now to honor #Charleston victims. — Mitt Romney (@MittRomney) June 20, 2015
MSNBC's Chris Hayes initially confronted South Carolina congressman Mark Sanford about the flag on Thursday, calling it a"symbol of tyranny." Since then, others in the media, state and national politics have all felt the need to chime in — filmmaker Michael Moore, GOP presidential candidate Lindsey Graham, our own Alex Griswold, and so on.
Unsurprisingly, Romney's tweet has generated a variety of reactions. Most of them are predictable, so here's a small selection:
@MittRomney I disagree. Let it stay, it is not a symbol of hatred. It is history, it has nothing to do with hate.

— Kyle nChell (@Kylenchell98) June 20, 2015
@MittRomney if that flag offends someone, they need a history lesson

— Hunter Ansley (@theHunterAnsley) June 20, 2015
@BenjaminNorton @MittRomney Remember when Romney had the bravery to say this as a candidate? I don't either.

— Dave Zirin (@EdgeofSports) June 20, 2015
Meanwhile, Romney's tweet and the reaction to it have stirred a rather poignant predicament for the current slate of GOP candidates. A few have stepped into the discussion already. Some have even bumbled into it. But now that a notable former candidate has made his opinion clear, will the rest do the same?
[Image via Shutterstock.com/Twitter]
— —
>> Follow Andrew Husband (@AndrewHusband) on Twitter
Have a tip we should know? tips@mediaite.com