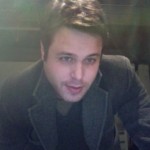 Apple's big 9.9.09 Music event may have disappointed when it comes to the Beatles (Rock Band rocked that one) and the mythical tablet (not even close, guys), but the event did herald the release of the iPhone OS 3.1 update, as well as the release of iTunes 9.
With the two software updates, Apple has added several new features and incremental changes, (though still no exposure of the video or augmented reality APIs that developers are anxiously awaiting).  So yesterday afternoon, like any good Apple devotee, I downloaded and installed both updates.
And then, last night, something unexpected happened.  MMS started working on my iPhone, weeks ahead of AT&T's announced release date for the feature.
The Multimedia Messaging Service, which transmits pictures videos and sounds between mobile phones in a manner that resembles regular SMS text messaging, first hit Norwegian cell phones in 2002, and has been common on most camera equipped phones in the US for years.  Your Motorola Razr could do it from day one, and your phone before that probably could too.   Along with tethering, which allows iPhone owners to use their phones to connect their computers to the internet on the go, it is a long-awaited feature that was made possible by Apple with the release of iPhone OS 3.0, but which has not been made generally available to AT&T's US users – much to customers' chagrin.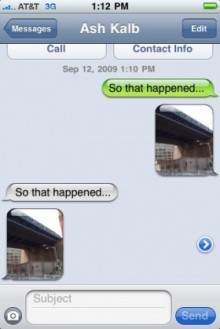 This makes AT&T's recent announcement that MMS would be coming to iPhones by September 25th a welcome one, as customers have been asking AT&T and Apple where the feature, ubiquitous on other, cheaper, lower-tech phones, was and when it would be coming.  In fact, people have been asking since the release of the original iPhone in 2007, so it is about time.
MMS has been intermittently available for months to those more adventurous iPhone users who don't mind a slightly less-than-legitimate work-around, but the methods available to enable it have been unreliable at best. The process seems to have gotten easier with the 3.1 release, but better yet, you may not have to wait or hack to MMS right now.
For me at least, it seems to just be working.  And this hashtag may indicate that it may be for others as well.
This likely has to do with AT&T working through the process of removing the opt-out codes that have blocked MMS from working on iPhone accounts since the 3.0 release.  If my phone is any evidence, it looks like the rollout has begun.
So if you can't wait for the 25th, or don't trust AT&T to get there on time, give it a try.  Your iPhone might just MMS too.
Ash Kalb is the general counsel of a New York-based telecommunications and technology company and an instrument-rated pilot. He writes about geeky things for Mediaite.
Have a tip we should know? tips@mediaite.com