Model Melissa Stetten's Live Ruination Of Brian Presley Proves Twitter Beats Facebook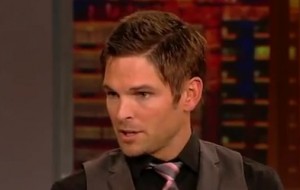 When actor and vocal Christian Brian Presley began chatting up model Melissa Stetten on a red-eye flight to New York last week, he thought they were alone, but Melissa was live-tweeting the experience to her thousands of followers. Her version of their conversation, which included later-deleted observations about his disappearing wedding ring, became a viral sensation that begged Melissa's own Twitter query, "Did I just ruin Brian Presley's life via Twitter?"
The drama unfolded in a series of tweets during an early-am redeye flight last Wednesday, as Stetten became increasingly put off by her seat-mate. Here are some of the highlights: (warning: strong language)
No thanks, Brian, the actor sitting next to me on this flight talking about his role with Kurt Russell and his spiritual beliefs

Brian has a wedding ring. I ask him how his wife is, he says he just wears the ring because he likes it. Right, Brian. (later deleted)

Apparently Brian is a straightforward guy from Oklahoma who booked a McDonalds commercial when he was 19 and then God took over from there

Brian hates closed minded people but loves artists in the industry, and just called this one-sided conversation a "collabo" between us

Oh wow, Brian grew up on a ranch with uber conservative parents but his stance on gay marriage is ZZZZZzzzzzzzzzzz….

Brian just said "like us sitting here right now, talking about where we're from, it's like divine interception." right, interception

Yes, this is BRIAN! RT @Pat_Healy: @MelissaStetten Is this him by any chance? http://www.imdb.com/name/nm0696169/'

He said he was engaged for 6 months but broke it off! RT @Pat_Healy: @MelissaStetten Ask him how his wife Erin and son Jackson are

Brian just took his Heineken in a plastic cup into the bathroom. Will report back shortly

Holy shit, Brian came out of the bathroom WITHOUT his wedding ring on. Watch out Virgin America, you've got a real charmer on board. (later deleted)

Brian is back, he just ordered the chicken salad sandwich

Brian's been looking for the headphone jack for 10 minutes

Brian said he was engaged to another actress but it didn't work out because they didn't "mesh well" together

Holy shit. He's had 3 heinekens and is wasted. Sober? Hardly. RT @PlaidMcPlatypus: did you say he was drinking beer?

Did I just ruin Brian Presley's life via twitter?

Who opens the windows on a redeye flight? Brian does. Fucking Brian http://twitpic.com/9tdd17
The fallout from the story included a lot of judgment of Brian Presley, mostly because he's not just a Christian, but, like, an uber-Christian who constantly talks about how God saved him from addiction, as he did in this recent appearance (with wife Erin Presley) on The View. Apparently, Erin auditioned for the View spot that eventually went to Elisabeth Hasselbeck:
I've never understood the glee nonbelievers take at Christians who step in it. It seems to me that the bigger douchebag you are, the more in need of Christ you theoretically should be. If anything, this is proof of God's work, and that he has it cut out for him.
There has also been considerable backlash against Melissa Stetten, mainly from dudes who identify with Brian in this story, and felt that the punishment didn't fit the crime here. Stetten deserves some credit, though, for deleting the wedding ring stuff, which was the most damning, and for being hilarious. Her apoplexy at that open window shade was palpable.
There was also a ridiculous Daily Mail article that painted her as untrustworthy because she made a joke about winning the lottery, and "admitted" to lying about her age to casting directors, which, paradoxially, is an hoest thing to admit. The story also erroneously states that Red Eye co-star Andy Levy "questioned her claims," when Levy, in fact, expressed no doubt that what she tweeted really happened.
Brian Presley, whose spare use of Twitter mainly involves promoting his film and his admiration for Joel Osteen, responded on Facebook several days later with this quasi-denial:
I love that I took a red eye flight to NY, had a 10 minute friendly conversation with the person sitting next to me, had some food, and went to sleep! I learned today this person has been tweeting about me drinking beer in the airplane bathroom, and trying to commit adultery with her on the airplane. Really absurd and quite funny! … They Even took pictures of me while I was sleeping. A little WIERD!(sic) I was on a soap opera for years and never did the writers write something this good:)

None of what this person said happened is true! I guess in today's age you have to be careful who you say hello too.(sic)
Rather than pile on Brian Presley, I'll let the reader judge the relative credibility of these two versions, but what this demonstrates is that, in the brave new world of social media, Twitter is clearly superior to Facebook. While both applications harness their respective users' self-centeredness, Facebook is like an art museum of narcissism that others can visit, with the expectation that their own narcissism will be fed in return.
Twitter, however, is like The Hunger Games for narcissists, where egos must compete in real-time mortal combat, skillfully walking the tightrope between being interesting and provocative enough for people to give a crap about you, and being such a dick that people just block you. Coming to a Twitter fight with a Facebook account is like coming to a gunfight with a map to your gun safe.
If Brian Presley paid more attention to his Twitter account, he would have been alerted to the danger, and could have begun firing off tweets about how he was doing "research" for a film about married guys who flirt on airplanes.
Have a tip we should know? tips@mediaite.com