Mormons Posthumously Baptized Simon Wiesenthal's Parents…And President Obama's Mother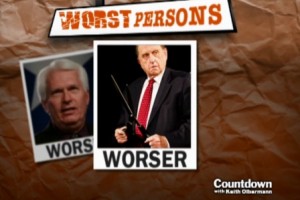 Church of Jesus Christ of Latter Day Saints president Thomas Monson recently earned a runner-up "Worst Persons" award on Keith Olbermann's Countdown for having to issue an apology for "continuing (the church's) policy of posthumous baptism" without the family's consent, in this case, with the parents of famed Nazi-hunter Simon Wiesenthal.
While Olbermann is technically incorrect (it's against their "policy," but it's a poorly-enforced policy), this story reminds me of another famous posthumous Mormon baptizee: President Obama's mother.
Shortly after then-Sen. Barack Obama accumulated the delegates needed to secure the Democratic Party nomination in 2008, rogue Mormons swooped in on his late mother's soul. From Jake Tapper:
The Church of Jesus Christ of Latter-Day Saints confirmed Tuesday afternoon that someone improperly, posthumously baptized the late mother of President Obama into the Mormon faith.

Last June 4 — the day after then-Sen. Obama secured enough delegates to win the Democratic presidential nominee — someone had the president's mother Stanley Ann Dunham, who died in 1995 of cancer, baptized.

On June 11, she received the sacrament.
According to Tapper, the church says this sort of thing is not their policy, but apparently, Mormons have been collecting the souls of Holocaust victims for years, without their knowledge or consent. While it may not be the Mormons' policy, maybe they ought to make posthumous baptism a little bit harder than submitting a link to Digg.
You would also think that, since the President's mother was baptized almost four years ago, the LDS church would have figured out a better workaround by now. Apparently not:
The LDS Church has suspended access to its genealogy database for a church member who last month had a posthumous proxy baptism performed for the parents of famed Holocaust survivor Simon Wiesenthal.

The church also issued a public apology.

"We sincerely regret that the actions of an individual member of the church led to the inappropriate submission of these names," church spokesman Scott Trotter said. "These submissions were clearly against the policy of the church. We consider this a serious breach of our protocol and we have suspended indefinitely this person's ability to access our genealogy records."

…The Church of Jesus Christ of Latter-day Saints has long asked members to engage in baptisms for the dead only for direct relatives. More specifically, according to agreements reached between LDS and Jewish officials as recently as 2010, the LDS Church has promised that the names of Holocaust victims would not be submitted for baptism for the dead in any of the church's temples unless those names belong to direct ancestors of those submitting the names.
While I'm not religious now, I grew up steeped in the Christian faith. I know that, while this kind of abysmal baptismal is offensive in the extreme (and kinda weird, like an afterlife Fantasy Football draft), for a believer, it would have no effect on the actual soul of the baptizee. You can't have your immortal essence diverted without your consent. Christianity is about having strong faith, which is impossible if you don't even know you're being baptized.
The good news is that, if former Massachusetts Gov. Mitt Romney manages to weather the Santorum surge, and faces President Obama in the general election, this could be the opening debate question that John King has been looking for.
Here's the clip, from Countdown:
Have a tip we should know? tips@mediaite.com