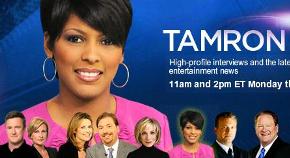 It was just over a month ago when, in the wake of high profile hirings at CNN and MSNBC, Rachel Sklar wrote about "The Unbearable Whiteness" on cable news.
As MSNBC adds another anchor to its new dayside line-up today, something is becoming clear – the network is taking major steps to change their "whiteness" overload.
You could make the case that it actually began with someone who has been with MSNBC for awhile. Tamron Hall has been getting a major promotional push recently, both on msnbc.com and on MSNBC – with her own series of promos. Hall now officially anchors the 11amET and 2pmET hours.
But that's not all. Today it was announced that former HLN anchor Richard Lui would be joining MSNBC as a dayside anchor. Two weeks ago, in a surprise announcement, Martin Bashir made the move from ABC's Nightline to a dayside hour, assumed to be 3pmET. Cenk Uygur of The Young Turks has been filling in regularly on the 3pm and 4pmET hours, and former CNNer Veronica De La Cruz is now contributing to MSNBC as well as NBC News.
Maybe on some level this is a reaction to a Dallas Tea Party critique back in February. But MSNBC, and on a larger scale, NBCU, have pushed diversity regularly. Still, as Sklar pointed out at the time, the line-up had very few non-white regulars – which was the same for the other cable news networks.
While Lawrence O'Donnell is the highest-profile new host on MSNBC, in a prime time role, these other additions should not go unnoticed. And the network should be praised. I asked Sklar (who also runs the Change The Ratio Tumblr) for her take:
I think it's fantastic. Two weeks ago we saw with the Shirley Sherrod story how important it is to have a diverse group of talent on hand to not only report on a story but to put it in context. That applies every day, across the board. Any newsroom will be richer for having a diverse staff to draw upon. So good on MSNBC.
—–
» Follow Steve Krakauer on Twitter
Have a tip we should know? tips@mediaite.com