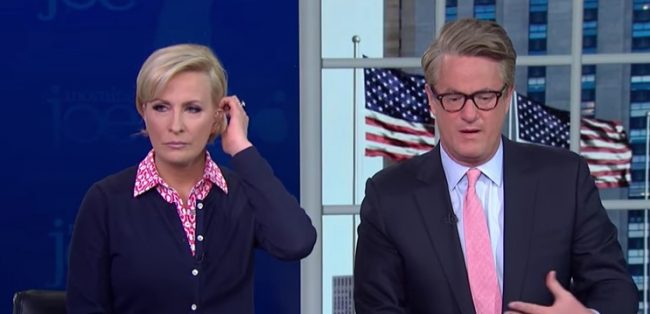 In response to President Donald Trump's Twitter attacks on them, MSNBC's Mika Brzezinski and Joe Scarborough penned a Washington Post op-ed and appeared on Morning Joe, revealing that the White House had threatened them with a scandalous National Enquirer story unless they softened their coverage of the president. They then explained the alleged quid pro quo in much greater detail on their show.
Following this bombshell, Trump took to Twitter to refute those claims, stating it was Joe himself that was the one who contacted him to put the kibosh on the article. This caused Scarborough to respond on Twitter that he had texts and phone records that proved his case.
Yet another lie. I have texts from your top aides and phone records. Also, those records show I haven't spoken with you in many months. https://t.co/TZWiElo6Gs

— Joe Scarborough (@JoeNBC) June 30, 2017
According to Politico's Hadas Gold, MSNBC has stated that they currently have no plans to release any recordings or evidence:
MSNBC says they are not planning right now to release the convos btwn Joe and WH officials as proof https://t.co/2ggEKDMMVp

— Hadas Gold (@Hadas_Gold) June 30, 2017
It's been reported that the MSNBC host stated that he kept NBC News executives apprised of the whole situation in real time with Scarborough stating that he showed network execs as the texts came in from the White House.
The allegation that Scarborough received pressure from White House officials over coverage, or even worse, were threatened by a negative story from a publication friendly to the president is a pretty significant deal. At least one cable news competitor is openly asking if it is an abuse of power.
Multiple reports provide the name of at least one of the top White House aides in contact with Scarborough over the Enquirer story — Jared Kushner. Meanwhile, the White House has denied there as any "quid pro quo" involved with the conversations.
An MSNBC spokesperson has confirmed to Mediaite that there are no current plans of releasing any phone records.
[image via screengrab]
—
Follow Justin Baragona on Twitter: @justinbaragona
Have a tip we should know? tips@mediaite.com