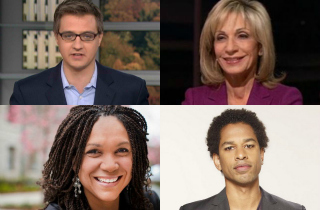 In April, Mediaite took a look back at the many apologies that MSNBC's hosts have issued over the course of the past 12 months. Since then, there have been more — apology after apology — from either the news network or its hosts. Rather than wait a whole seven months to do another roundup of apologies, we figured we would bring you a up to date on MSNBC's apologies just since the spring.

RELATED: MSNBC's Year Of Apologies
Trollin' Valor
In a notable effort to achieve the most contrarian rhetorical posture humanly possible, MSNBC weekend host Chris Hayes thought it might be wise, on Memorial Day weekend, to challenge the notion that soldiers who fall in battle are characterized as "heroes." He said he feared use of this term would lead to nationalistic pride that would make future wars more likely. Umm that is until everyone, apart from a few on the far left, rained criticism down on the studio bound host. "I don't think I lived up to the standards of rigor, respect and empathy for those affected by the issues we discuss that I've set for myself. I am deeply sorry for that," said Hayes said in a statement the following day.
WaWa-Gate
Republican presidential candidate Mitt Romney made a visit to a WaWa in Pennsylvania in June which stirred the hornet's nest of progressive bloggers after he said he found it "amazing" that the chain has a touchpad ordering system. Andrea Mitchell broadcast that clip, but opted not to include much of the rest of that statement. Romney was using the touchpad as an example of how the private sector can innovate. Mitchell took heat from the conservative blogosphere and Fox News Channel for the deceptive edit. The following day, Mitchell played the full clip with the appropriate context.
While the word "apology" went unsaid here, the fact that Mitchell felt the need or was forced to rebroadcast the context surrounding the original clip shows a clear understanding that a mistake was made and the record needed to be set straight.
"Niggerization"
This episode hardly needs recapping. In what became a charge heard 'round the internet, MSNBC host Touré said that the Romney campaign was intentionally engaging in the "niggerization" of President Barack Obama for accusing the president of waging a campaign of "anger and hate."
In the following day's broadcast of his program The Cycle, Touré offered an apology. "I muddied the discussion by using the 'n-word,'" Touré said. "I could've made the same point without that word."
MHP Loses Cool
Melissa Harris-Perry became agitated in a September 1 discussion about poverty and the risks taken by small business owners and entrepreneurs. In what has become a famously passionate outburst by Harris-Perry, the MSNBC weekend host railed against the notion that being wealthy in America is somehow riskier than being poor. She later apologized, though my colleague, Alex Alvarez, believed that she should not have apologized for showing genuine passion on the subject, and I tend to share her opinion. Furthermore, having just lost a recently purchased house to Hurricane Isaac, the circumstances Harris-Perry was dealing with at the time would be difficult for anyone to keep their cool through. Nevertheless, this makes it into this updated list of MSNBC's year of apologies since she did apologize.
The Kardashian Episode
While NBC and MSNBC are distinct, the following episode gets an honorable mention in MSNBC's roundup of apologies since April. NBC apologized to its affiliates on Wednesday after Today opted to broadcast an interview with Kris Jenner, mother of the Kardashians at the time when the nation was observing a moment of silence on Tuesday, September 11.
"Yesterday, we made an editorial call resulting in the September 11 moment of silence not being seen," said NBC News President Steve Capus in a statement. "While we dedicated a substantial amount of airtime to anniversary events, we still touched a nerve with many of your viewers…and for that we apologize."
The unanswered question remains was Capus (who also recently apologized for NBC's misleading editing of the Trayvon Martin tapes) apologizing for their decision to air the interview with Kardashian during the moment of silence, which would be the appropriate thing to do, or was it just a condescending, non-apology for the fact that some of their viewers nerves were touched.
There is no question networks make mistakes and they ought to own up to them. This past year, however, MSNBC and NBC News have made far more of them than anyone else (yes, even than Fox & Friends), and yet not one has led to any serious action against the violators. It has to make you wonder if at some point someone in management is going to have to pay a price.
> >Follow Noah Rothman (@Noah_C_Rothman) on Twitter
This is an opinion piece. The views expressed in this article are those of just the author.