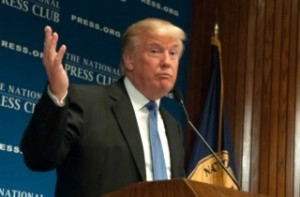 MTV News has re-released a news report produced in the months following the 9/11 attacks, saying that the clip disproves Donald Trump's claims that thousands of Muslims in New Jersey celebrated the attacks.
MTV was thrust into the controversy when fact-checkers tracked the rumor down to a post from conservative blogger Debbie Schlussel. "As I've also noted, even leftist MTV News (yes, that MTV) broadcast news reports showing thousands of Palestinian Muslims outside Paterson's town hall, cheering the 9/11 attacks against America (and starting a riot using cement garbage cans and metal poles, which they used to attack police)," she wrote in 2013.
But MTV tracked down the video in question, and found nothing of the sort. The video features a young woman who witnessed the disturbance saying there was only a dozen or so people banging on trashcans with sticks, and that none were older than fourteen-years-old. The same woman tells MTV that it was "not anything different than would've happened on any other summer night, on any other day where school was let out early."
In addition, the 2001 report from MTV featured several clips of local news stations reporting that they couldn't find a single person who could corroborate the rumors that groups of Muslims were celebrating in Paterson, New Jersey.
Trump actually tweeted out part of the MTV video earlier in the day, an interview with radio host Curtis Sliwa saying he had heard reports about Muslims celebrating in New Jersey. But Trump edited out the later parts of the report proving the incident never happened. Silwa later took to Twitter to clarify that Trump had taken his comments out of context.
Thanks @realDonaldTrump for the trip down memory lane. I was saying there were a handful of people. Clip is edited. https://t.co/PnqhCv8zvV

— Curtis Sliwa (@CurtisSliwa) December 1, 2015

[Image via screengrab]
——
>>Follow Alex Griswold (@HashtagGriswold) on Twitter
Have a tip we should know? tips@mediaite.com