Mugged London Riot Victim From Viral Video Speaks Out: 'They Won't Break Me'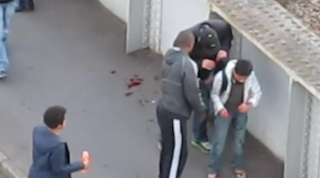 It's one of the most disturbing images from a tragedy that has given us so many. A boy, lying in his own blood on a London street, is helped up by a group of men. However, once he's gotten to his feet, the men pretending to help rob him and walk away, leaving the boy to stumble, dazed and still bleeding, down the road.
The video of Asyraf Haziq, a 20-year-old Malaysian, who had come to the United Kingdom for school. It's had such an impact that Prime Minister David Cameron even referenced it in one of his addresses, saying that the video makes it "clear that there are things badly wrong with our society." Haziq has spoken to The Sun about the incident from his hospital bed as he waited to be treated for a broken jaw.
Haziq explained that he was going to a store to buy food to break his Ramadan fast when 20 or so looters tried to steal his bicycle. He doesn't remember if he fell or was knocked off.
"Then everything is a blur – I fell down. I was bleeding from my mouth and thought some people were coming to help me. But they were from the same group. They took my PSP and a container you can see a man in the video throwing away. The video has been seen by lots of people. I want to thank them for their support. I want everyone to know, these people may steal my things, they won't break me."
Here's something we can probably all agree on; If there's anyone who deserves to get caught by facial recognition technology, it's the men seen cooly reaching into Haziq's bag and stealing his things.
Below is footage of Haziq's interview from The Sun. Read more of it and watch the original viral footage here.
(h/t Media Bistro)
Have a tip we should know? tips@mediaite.com