Must Reads: Everything We (Still Don't) Know About Missing Malaysian Plane MH 370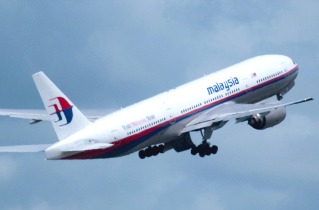 Every a.m., Mediaite publishes a primer of what the interweb machine is writing, talking, tweeting, and blogging about, so that you may fool friends and family into thinking you are a trove of information and insight. Today: as the search for the missing Malaysia Airlines flight MH 370 enters its tenth day, theories are getting nuttier, and everybody's looking around for someone to blame.

"Timing of Report by Flight's Pilot Focuses Inquiry" (Chris Buckley and Keith Bradshear, New York Times)
The latest info to be made public: the pilot's/copilot's famous last words, "All right, good night," just after a signaling system either shut off or was turned off:
"A signaling system was disabled on the missing Malaysia Airlines jet before a pilot spoke to air traffic control without mentioning any trouble, a senior Malaysian official said Sunday, reinforcing theories that one or both of the pilots may have been involved in diverting the plane and adding urgency to the investigation of their pasts and possible motivations.

[snip] "On Sunday, Malaysia's defense minister added a critical detail about investigators' understanding of what had transpired in the cockpit in the 40 minutes of flight time before ground controllers lost contact with the jet. The determination that the last verbal message to the control tower — "All right, good night" — came after a crucial signaling system had stopped transmitting, perhaps after being shut off, was likely to refocus scrutiny on the plane's veteran pilot, Capt. Zaharie Ahmad Shah, 53, and his young first officer, Fariq Abdul Hamid, 27."
"Missing Malaysia Airlines Jet May Have Flown Under Radar: Investigators" (Lindsay Murdoch, Sydney Morning-Herald)
If you're looking for more reasons to be suspicious of the pilot, this nugget should appeal to you:
"Malaysia Airlines flight MH370 dropped to altitudes as low as 1524 metres (5000 feet) using a dangerous flying technique called "terrain masking" to avoid radar in at least three countries, investigators believe.

[snip] "Investigators believe that by following commercial routes the plane did not raise the suspicion of people monitoring radar of the countries it overflew.

"Terrain masking is used by military pilots for stealth flights. Based on the estimated time in the air, authorities believe MH370 would have passed over two additional countries besides Malaysia, although it's not clear which ones."
"Malaysia Airlines: Blame Game Has Yet to Begin" (Tom Ballantyne, Al Jazeera)
Meanwhile, as we learned from the psychiatrist CNN's Brian Stelter brought on to his show yesterday to explain our fascination with this story, part of our obsession is the search for someone to blame.
It sounds like there will be plenty of blame to go around, ranging from those who failed to stop the sabotage (or whatever) to the miscues in the investigation. Al Jazeera's Ballantyne flags the lack of warning signs about the pilot's increasingly radicalized stance on the Malaysian government to the outdated black box technology to the missed opportunities to identify the plane via radar as it flew off course.
"The Malaysia Airlines Pilot's Politics" (William J. Dobson, Slate)
At Slate, William Dobson pours cold water on the pilot's "radicalism" for his support of Malaysia's democratic opposition leader, noting, "A fanatical supporter of Anwar Ibrahim does sound scary—as long as you know nothing about him."
"Conflict Over Search for Missing Malaysia Airlines Plane Reflects Regional Tensions" (William Wan and Simon Denyer, Washington Post)
As more nations join the hunt, tensions among and between them are becoming a problem:
"China has assailed Malaysia's handling of the probe. Vietnam at one point suspended its search after it thought Malaysia was holding back relevant radar information. Indian officials said Sunday that they would suspend their search-and-rescue effort while Malaysian officials determine where they should be looking.

[snip] "The antagonism reflects, in part, long-simmering tensions in the region. A number of countries involved in the search have been arguing in recent years over territories not far from where someone in the plane's cockpit last contacted air traffic control."
——
>> Follow Evan McMurry (@evanmcmurry) on Twitter
Have a tip we should know? tips@mediaite.com