Must Reads: Good December Job Numbers, Saudi Arabia's Syria Problem, and More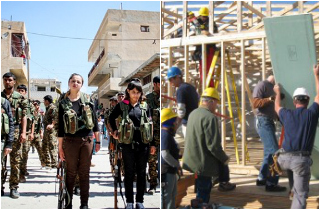 Every a.m., Mediaite publishes a primer of what the interweb machine is writing, talking, tweeting, and blogging about, so that you may fool friends and family into thinking you are a trove of information and insight. Today: good signs for end-of-year job growth; why Saudi Arabia is entangling itself in Syria; the internet is an appalling place for women; and more.

"Companies in U.S. Added 238,000 Jobs in December, ADP Says" (Michelle Jamrisko, Bloomberg)
December experienced the highest job growth in thirteen months, according to the ADP, and numbers for November were revised above expectations. Job increases were felt across the board, but especially in construction and manufacturing—important, as retailers' holiday hiring can artificially boost end-of-year job numbers. These ain't BLS figures, but they're heartening nonetheless.
"Saudis Back Syrian Rebels Despite Risks" (Robert F. Worth, New York Times)
A good piece on the confusing nexus of political, religious and sectarian contradictions at work in the Syrian civil war, as Saudi Arabia has become a primary sponsor of the Syrian rebels even as their support threatens to blur into support for ISIS, a Syrian al Qaeda affiliate. The Saudis strongly oppose Bashar al Assad, and more important his connections to Iran, and have apparently decided to hold their nose at the increasing al Qaeda presence in the conflict. Yet Saudis who had broken a previous ban to travel to Syria and help the jihad are returning and telling their compatriots not to go, citing rebel brutality.
"Syria Rebels 'Seize' ISIS Headquarters in Aleppo" (BBC)
Meanwhile, Syrian rebels took control of ISIS' Aleppo headquarters and freed dozens of prisoners. The seizure is rare good news for the rebels, who have been losing ground in the multifront civil war to the more extremist ISIS for months now.
"Why Women Aren't Welcome on the Internet" (Amanda Hess, Pacific Standard)
Slate's Amanda Hess has an excellent and persuasive survey of how hostile the online world is to women—think rape and death threats, constantly—a problem that will only be exacerbated as the internet becomes interpolated with more aspects of women's lives. It's an unsettling piece, and one hopes it will unsettle the right people.
RELATED: "When Misogynist Trolls Make Journalism Miserable for Women" (Conor Friedersdorf, Atlantic)
"Replace and Defend" (John Casey, The Non Sequitur)
Just when you thought there was no more of that David Brooks' "I used to smoke weed but now it's not Thought Leaderly" column left in the pipe, Non Sequitur's John Casey finds someone actually defending the thing, and having to go to such lengths to do so that it constitutes the rare double fallacy. Brooks' columns are so bad they corrupt other columns.
[Image via Alalam / Habitat for Humanity]
——
>> Follow Evan McMurry (@evanmcmurry) on Twitter
Have a tip we should know? tips@mediaite.com