Must Reads: Unemployment Benefits, Minimum Wage, Wolf of Wall Street and More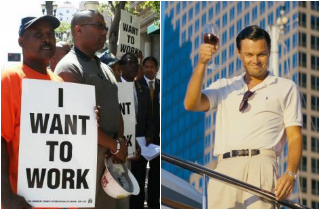 Every a.m., Mediaite publishes a primer of what the interweb machine is writing, talking, tweeting, and blogging about, so that you may fool friends and family into thinking you are a trove of information and insight. Today: unemployment benefits on their last life; how the minimum wage fight gained urgency; and what Wolf of Wall Street might tell us about it all.

"Obama Steps Up Pressure on Congress to Extend Unemployment Benefits" (Rebecca Kaplan, CBS News)
The extension of unemployment benefits is still alive, though barely: a vote in the Senate on a bill by Dean Heller (R-NV) and Jack Reed (D-RI) to renew $6.5 billion worth of benefits for three months is, as of last night, four votes shy of breaking cloture. Senate Majority Leader Harry Reid (D-NV) delayed the vote until today, in part because inclement weather kept so many lawmakers from being present. Obama is reportedly working the phones to help the measure through the upper chamber, though the House still poses the bigger challenge.
"Can Obama Do Anything to Fight Inequality Without Congress?" (Jill Lawrence, Daily Beast)
Jill Lawrence explores Obama's limited but still extant options for improving the economy while narrowing the income gap given that Congress has hung an Out to Lunch sign on its door. Obama's mostly stuck with small executive measures that will have a paltry effect without a broader legislative accomplishment, and Lawrence nominates for that accomplishment immigration reform, a bill that would kickstart the economy and play well politically for everybody. Given that House Speaker John Boehner recently winked at the pro-reform crowd, this may be Obama's most practical way forward.
"The Minimum Wage Debate Redux" (Jérémie Cohen-Setton, Bruegel)
Meanwhile, a minimum wage hike continues to gain urgency. Cohen-Setton's roundup of economist blogs will get you going on all the relevant arguments, pro and con (spoiler: the cons aren't very good), with links to Jared Bernstein, et al. Read it.
"The Roots of Obama's Minimum-Wage Gamble" (Jason Zengerle, POLITICO Magazine)
Zengerle has a great, quick introduction to the inception and development of the "living wage movement," largely responsible for the minimum wage surfacing as an issue. Zengerle traces it from its start in food kitchens in Baltimore to its mid-1990s resistance from centrist Democrats to its propulsion by Occupy Wall Street and the recent fast food strikes.
"The War Over Wolf of Wall Street" (Andrew O'Herir, Salon)
Salon's movie critic Andrew O'Herir considers the debate surrounding Martin Scorsese's Wolf of Wall Street, which, depending on your own politics, is either a masterful marriage of decadent subject and auteur ambition or a film suspiciously enraptured by the behavior it claims to be condemning.
Rather than choosing either side, O'Herir argues that Wolf of Wall Street works precisely because it conjured this exact debate, refusing the audience any sort of portable moral and instead intentionally provoking a morally ambiguous response in the viewer. Good stuff.
——
>> Follow Evan McMurry (@evanmcmurry) on Twitter
Have a tip we should know? tips@mediaite.com