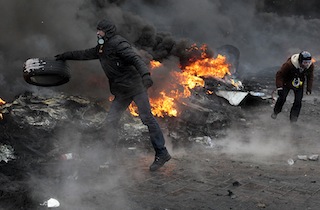 Every a.m., Mediaite publishes a primer of what the interweb machine is writing, talking, tweeting, and blogging about, so that you may fool friends and family into thinking you are a trove of information and insight. Today: protests metastasize in Ukraine, AT&T reveals data about USG data requests, Marco Rubio either is or is not staying in Florida, and more.


"Ukraine Protests: EU Calls for Sanctions as 25 Die in Latest Violence" (Roland Oliphant, Telegraph)
As the death toll from Tuesday's clashes between protestors and riot police in Kiev reached 25, European Union nations called for sanctions against Ukraine President Viktor Yanukovych. But Russia—whose interference is one of the driving forces of the protests—is siding with the embattled leader, while protestors worry of losing a war of attrition against government forces.
"Scott Walker, Eyeing 2016, Faces Fallout from Probes as Ex-aide's E-mails are Released" (Rosalind S. Helderman, Washington Post)
About 25,000 emails are set to be released Wednesday that could spell trouble for Wisconsin Governor and underrated potential 2016 GOP presidential candidate Scott Walker (R). The controversial governor is already an alum of one state investigation stemming from his time as Milwaukee County executive, an investigation that sent six of his aides to prison; he also faces an ongoing inquiry from his 2012 recall campaign.
In the reductive vocabulary of national politics, Walker risks becoming "another Chris Christie," in which the appearance of malfeasance plunks his larger political ambitions.
"Outrage Over Wall St. Pay, but Shrugs for Silicon Valley?" (Steven M. Davidoff, New York Times)
Dealbook's Davidoff asks a good question: there's plenty of (justified) outrage over, say, JPMorgan CEO Jamie Dimon's $20 million salary, but none over Google's Eric Schmidt's $100 million take-home. Why?
"The Government Asked AT&T for Location Data Nearly 38,000 Times Last Year" (Brian Fung, Washington Post)
This article's existence is, in a strange way, good news: some of these numbers wouldn't have been revealed before recent (modest) improvements to transparency with regards to the NSA's surveillance operations. Baby stepz!
"Rubio Takes His Miami Home Off Market" (Javier Manjarres, The Shark Tank)
What does it mean for 2016!??!!?1!!!231!?!!one!!@!!!?
[Image via Sergei Chuzavkov/AP]
——
>> Follow Evan McMurry (@evanmcmurry) on Twitter
Have a tip we should know? tips@mediaite.com