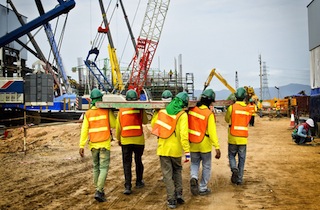 Every a.m., Mediaite publishes a primer of what the interweb machine is writing, talking, tweeting, and blogging about, so that you may fool friends and family into thinking you are a trove of information and insight. Today: the slowdown in the U.S. economy; the polls are all over the place; two court decisions are good news for voting rights advocates and the EPA; and more.

"Why Growth Slowed to a Halt at the Start of the Year" (Neil Irwin, The Upshot)
Why?
Business investment, meanwhile, contributed quite a lot to growth from 2011 to 2013, as companies increased their investments. Companies have been adding buildings, buying new equipment and acquiring new software packages strongly enough that such investment contributed 0.84 percentage points to growth in 2011, almost precisely the same in 2012.The contribution shifted down to a third of a percentage point in 2013.

In the first quarter of 2014, however, the corporate sector was a net negative for the economy, with investment in structures, equipment and intellectual property falling at a 2.1 percent annual rate, enough to subtract a quarter percentage point from overall G.D.P. That was surely in part caused by the harsh winter weather, but the basic trend is real: American business, once a major driver of the expansion, no longer is.
"Midterm Outlook for Democrats is Better, But Far From Good" (Chuck Todd, Mark Murray, and Carrie Dann, NBC News)
Meanwhile, polls continue to be inconclusive on Obama, Obamacare, and the rest. Yesterday's WaPo/ABC News poll was a big chunk of bad news for the President Barack Obama, but today's WSJ/NBC News poll finds his favorability rating above water for the first time in a while, and his approval slowly trending up. This is closer to the Kaiser/NYT poll from last week, and a good reminder to read polls in aggregate.
"Federal Court Strikes Down Discriminatory Wisconsin Voter ID Law" (Ari Berman, The Nation)
Ari Berman, who's literally writing the book on Voter ID laws, on the significance of the federal court's invalidation of Wisconsin's version as part of a larger judicial trend against the laws:
Wisconsin is the fifth state where voter ID laws have been invalidated in court. "These laws, when they get seriously tested, don't survive in court," says Ho. The Supreme Court upheld Indiana's voter ID law in 2008, but since then legal and public skepticism of voter ID laws and related restrictions has increased considerably.
"Supreme Court's Air Pollution Ruling Goes Against Texas" (Neena Satija, Texas Tribune)
SCOTUS' ruling in favor of the EPA yesterday is a big deal:
Tuesday's Supreme Court ruling means that Texas and 26 other "upwind" states in the South, Midwest and Appalachia will have to reduce some of their emissions that contribute to air pollution in East Coast states like New York. Coal plants are among those likely be the most affected, particularly as they are already dealing with new limits on their carbon dioxide emissions.
"As His Tenure Winds Down, Obama Turns Focus to Executive Branch" (John Harwood, New York Times)
How Obama intends to use John Podesta, Jack Lew, and Sylvia Burwell to effect his second-term agenda, which could rely on vast executive authority: "For the remainder of President Obama's term, what matters most to his success is what Washington watches least: competent governmental management."
[Image via Shutterstock]
——
>> Follow Evan McMurry (@evanmcmurry) on Twitter
Have a tip we should know? tips@mediaite.com