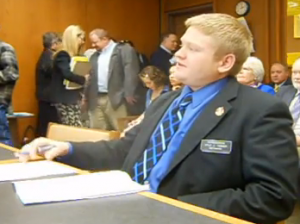 A Republican state representative showed up to a committee meeting on Tuesday, and, while there, accidentally dropped his gun. But fret not, he had a second one strapped in a shoulder holster. In fact, he regularly wears two guns to legislative meetings.
As The Huffington Post reports, Kyle Tasker attended a House Criminal Justice and Public Safety Committee meeting and "explained to onlookers that he had donated blood that morning and the effects caused him to drop his gun." It did not fire.
State Rep. Steve Shurtleff (D-Concord), a member of the committee, said that he was sitting three seats away from Tasker in the committee room when he heard "a clang" and saw that the gun was on the floor. […]

"I was glad it was his blood that he was giving and no someone else's," Shurtleff told The Huffington Post.
Earlier, Josh McElveen, a WMUR reporter, tweeted about the incident:
Gun belonging to #NH Rep Tasker slips out of shoulder holster an drops to floor at State House. Says he's loopy from giving blood. #WMUR

— Josh McElveen (WMUR) (@JoshMcElveen) March 20, 2012
Last fall, Tasker faced backlash for the following comment about guns, which he posted on Facebook: "When a police officer points his firearm that's not gonna make me feel threatened? If I've been trained to respond to that with force am I justified in blowing a cop away because I'm quicker on the draw, and he already pointed his firearm at me? Police are just citizens with badges and all laws should apply equally."
At the time, Tasker said the quote was taken out of context. He has not commented on Tuesday's incident.
Have a tip we should know? tips@mediaite.com