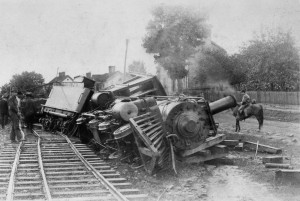 In some ways the story of McKinsey evaluations at Condé Nast is the perfect story.
Following the story this summer has been like watching a train wreck, but in the best possible way: We know the end is going to be gruesome, but we're waiting with bated breath to see just how just how gruesome, just how far the blood will splatter, just how deep editorial budgets will be cut.
To make things more intense, the train wreck is happening behind a curtain. Through the reportage of The Observer's John Koblin, we only get to hear about the developing scene in the grim and anxious murmurs of anonymous sources, not to mention the even-keeled boom of Condé CEO Charles Townsend himself — most memorably, "You don't need it! You don't need the Orangina!"
Earlier this week, Kolbin reported that the final McKinsey report will be ready in "the next two or three weeks," but recommendations could be ready in less than a week. But last night and this morning Gawker's Gabriel Snyder has been drumming up rumors that news of the cuts will leak as early as this morning: "Panicked reports are emanating from 4 Times Square about an announcement everyone's expecting in the morning." Emphasis ours.
Snyder continued:
So this latest flurry of speculation could be something unrelated. At the moment, though, we hear that even magazine editors-in-chief and publishers are being kept (officially, anyway) in the dark about what the morning will bring. Or maybe this wave of panic is just indicative of the slumping magazine empire's mood. If you know what's sparked this round of chatter, please drop me a confidential email.
So what exactly has Gawker heard. Sounds like even they don't know. Well, they know there is chatter — that's something I guess. At least it's entertaining to watch the oddsmakers in the comment section. One says "Two rounds of 5% cuts so far on the business side have happened, and now it's time for editorial to follow suit." Another says, "More cuts to the expense accounts. Many entry-level people will be cut. Some mid-level management will be let-go."
Everybody is an oddsmaker. Everybody loves a trainwreck.
Have a tip we should know? tips@mediaite.com