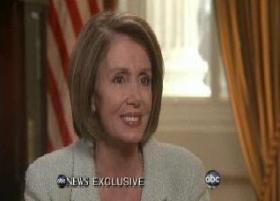 Speaker Nancy Pelosi is riding high after Congress finally past the health care bill over the weekend, and she sat down with ABC World News anchor Diane Sawyer for an exclusive interview last night.
However, while she talked about her power, new polls show her popularity reaching all-time lows.
Sawyer spent the majority of the interview talking health care, she also asked Pelosi about power. She quoted an Economist article which called her "arguably the most powerful woman in American history," and a Brown University professor who said she is the "most powerful Speaker in 100 years."
Said Pelosi:
Sounds good. I don't take it personally, except I take it as a compliment for all women. Because as the first woman I certainly wanted to demonstrate we could get a job done that has eluded others for a century.
And while her power grows, her popularity declines. A new CBS News poll found Pelosi had just an 11% favorability rating, with 37% unfavorable. But someone finished even worse – Sen. Harry Reid had just an 8% favorability rating.
Morning Joe and Fox & Friends discussed the ABC News Q&A last night. Said Joe Scarborough:
Diane Sawyer didn't ask how popular Nancy Pelosi was, they asked about power…There are very few women who match up to Nancy Pelosi in terms of historical import.
Other names mentioned on the MSNBC morning show were Sandra Day O'Connor, Hillary Clinton and Eleanor Roosevelt.
Here's the Pelosi/Sawyer 'power' Q&A:


——
» Follow Steve Krakauer on Twitter
Have a tip we should know? tips@mediaite.com