Nancy Pelosi Heckled at Liberal America's Future Now Conference – Exclusive Video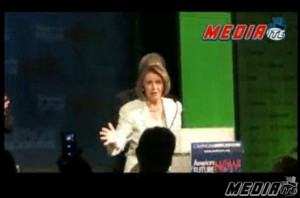 During a speech at the liberal America's Future Now! conference, Speaker of the House Nancy Pelosi was confronted by a very vocal group of protesters from a group called ADAPT, who have previously chained themselves to the White House fence to demand passage of the Community Choice Act (Code Pink was also there, but uncharacteristically quiet).
The protesters weren't content simply to make their statement, instead chanting loudly through Pelosi's entire speech, even after she paused to allow them to speak. It was nearly impossible to make out what she was saying over the din, but despite pleas, and later heckling, from the crowd, the protesters persisted.
After her speech, Pelosi immediately left with her security detail, while several conference staffers engaged one particularly frustrated protester. Toward the end of the clip, Campaign for America's Future Co-Director Bob Borosage expresses some frustration, but he also spoke with the protest's organizers, and they felt it had been productive.
At issue is the Community Choice Act, which would give those eligible for government-assisted nursing home care the choice of having that care provided in their own homes. Pelosi supported the act's inclusion in the health care reform bill, but couldn't muster the votes necessary for passage. ADAPT thinks she could have fought harder.
The conference's staff, and the audience, were supportive of ADAPT's right to protest, but not of their decision to disrupt Pelosi's entire speech. A conference staffer told one of the protesters it was "a strategic error" on the group's part, explaining that they had alienated a room full of allies.
Another staffer tried to comfort the wheelchair-bound protester, whose frustration was so palpable, it was easy to see why talk of political strategy, however correct, could ring hollow.
Bob Borosage's frustration is also understandable, as Speaker Pelosi could not have been happy with the optics that emerged from this event, and that can't help CAF or ADAPT.
Have a tip we should know? tips@mediaite.com