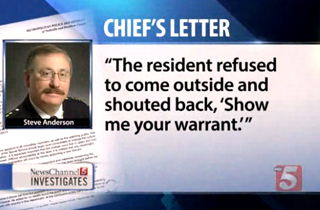 Nashville's chief of police dropped a bombshell allegation today: The Secret Service asked him to fake a warrant in order to arrest a man who made fake death threats against the president on Facebook.
Chief Steve Anderson sent a letter outlining his allegations to the House Oversight Committee, which has been conducting the investigation into the Secret Service's recent spate of misconduct. In it, Anderson told them how the Secret Service had called him after the man refused to let the agents into his house without a warrant, and said they believed he had a gun.
"The resident refused to come outside and shouted back, 'Show me your warrant,'" Anderson wrote. "One of the agents then asked a [police] sergeant to 'wave a piece of paper' in an apparent effort to dupe the resident into thinking that they indeed had a warrant."
In fact, the chief said that, as soon as officers arrived, they realized that the Secret Service agents did not have a legal basis to enter the man's house, and the man — who had a legal permit to carry a gun — had never actually threatened anyone.

That's when officers decided to pull out.

"I think you can see that had the MNPD officers complied with the directive from the Secret Service agents, there was likelihood for this event to have escalated into a serious and/or embarrassing situation for both of our agencies," Anderson wrote to then-Director Pierson and Assistant Director A.T. Smith.
Anderson said he was further shocked when he brought his concerns to the Secret Service brass in Nashville, and was brushed off in a "condescending and dismissive" fashion. "Do you think it is appropriate to wave a piece of paper in the air and tell him you have a warrant when you do not have a warrant?" he recalled asking during his second meeting. "Answer: 'I don't know. I'm not a lawyer.'"
The congressmen who received the letter were appalled. "There's already a lot of fodder to attack the Secret Service with, and this will be more," said Rep. Jim Cooper, (D-TN).
Watch below via News Channel 5:

[News Channel 5]
[Image via screenshot]
—
>> Follow Tina Nguyen (@Tina_Nguyen) on Twitter
Have a tip we should know? tips@mediaite.com