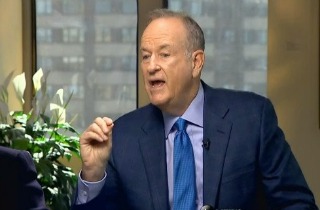 In his latest column, Fox News anchor Bill O'Reilly kept up his campaign to have Centers for Disease Control Director Dr. Thomas Frieden fired, or at least investigated for his management of the Ebola crisis.
O'Reilly has called for a ban on flights from countries in West Africa, where there is an epidemic. On Wednesday, he interviewed Republican Rep. Tim Murphy, who said Frieden is not in favor of the ban because it would harm the economies in African countries.
"If Frieden actually said what Congressman Murphy claims, he should be investigated for dereliction of duty," O'Reilly wrote in his column. "We don't need a nanny or a foreign-nation-builder right now, we need a commanding general."
More from the column:
It's worth remembering that Dr. Frieden's last job was as Mayor Michael Bloomberg's health czar in New York City. He engineered the city's ban on large sodas, which was eventually overturned by the courts. And, according to the New York Times, Frieden had the proud distinction of being "the only city agency head who keeps a bowl of condoms in the reception area of his office."

You're getting the point here. Dr. Thomas Frieden is the very personification of the politically correct nanny state when it comes to soda, free condoms, cigarettes, and trans fats, but he risks American lives out of concern for "fledgling" West African nations. Perhaps he would be more diligent if Liberians were drinking Big Gulp sodas as they were boarding in Monrovia.
[Photo via ABC/screen grab]
— —
>> Follow Eddie Scarry (@eScarry) on Twitter
Have a tip we should know? [email protected]