National Journal Poll Also Shows Republicans Taking Brunt of Shutdown Fallout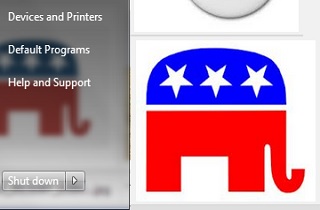 Despite the media's fixation with making the government shutdown/default an equal opportunity fustercluck, recent polls show that while Americans disapprove of all parties involved, Republicans in Congress are shouldering the lion's share of the blame, which they have earned. A Washington Post/ABC News poll showed 51% disapproval of President Obama , 61% disapproval of Democrats, and 70% disapproval of Republicans over the federal budget negotiations. The most recent United Technologies/National Journal Congressional Connection Poll confirms that pattern, showing 50% disapproval of President Obama's handling of the shutdown, but 69% disapproval of Republicans.
From The National Journal:
The current installment of the United Technologies/National Journal Congressional Connection Poll was conducted Oct. 3-6 by Princeton Survey Research Associates International. The poll surveyed 1,000 adults, half via cell phone, and carries a margin of error of plus or minus 3.7 percentage points.

Half of the poll's respondents disapprove of Obama's handling of negotiations over the shutdown, according to results from the same survey commissioned by the Pew Research Center. But congressional GOP leaders still score worse on this measure: 69 percent disapprove of the way they are handling the budget negotiations, while only 19 percent approve. Congressional Democrats fall in between: 29 percent approve and 58 percent disapprove.

Even though roughly half those surveyed in the current poll think the administration is mainly or equally to blame for the shutdown, and Obama and Democrats are underwater on the issue, Americans—by a vast ratio of more than 2-to-1—disapprove of the House GOP tying the future of the Affordable Care Act to funding the government or raising the debt ceiling.
A CNN/ORC poll asks the question differently, and although the percentages are grouped much more closely than in the two other polls, Republicans still end up holding the bag:
According to the poll, 63% of those questioned say they are angry at the Republicans for the way they have handled the shutdown.

"But the Democrats are not getting off scot-free. Fifty-seven percent of Americans are also angry at the way the Democrats are dealing with the shutdown. And a 53% majority say they are also angry at President Obama," says CNN Polling Director Keating Holland. "It looks like there is more than enough blame to go around and both parties are being hurt by the shutdown."
Believing that this is a both sides issue might make the media feel better, and Republicans feel bolder, but no one is doing either of them any favors by going along with it. As these polls also show, the longer this thing drags on, the more anger slides away from the President and the Democrats, and over to the GOP.
Have a tip we should know? tips@mediaite.com