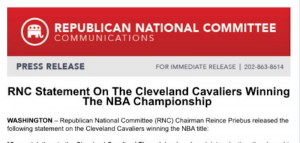 Last night's NBA finals game was historic. The Cavaliers and the Warriors battled through the championship to reach a seventh game and spent all four quarters within a handful of points of one another. At the end of it all, LeBron James brought victory to Cleveland for the first time in decades, making himself a legend in the city and erasing any remaining ill will from that time he left the team to go dominate with Miami.
Cleveland, of course, has been going nuts, but what does that mean for the forthcoming Republican National Convention, which is slated to happen in the city at the Cavs' own Quicken Loans Arena next month?
The Washington Post wondered about all this back in 2014. They pointed out that Reince Priebus wanted a June convention, but that James' return to the Cavs would surely kick that convention back to July so that they wouldn't have to play at a college arena. WaPo wondered, "What does Cleveland hunger more, the national spotlight of a national convention or the return of James and an NBA title?"
Well, they've since gotten the return of James and that NBA title, and now it's time to look ahead to the July convention. Most people seem to think the convention will be nothing more than an inconvenience to the people of the city now.
I still can't believe that game last night. Cleveland so deserves this. Especially since they'll also have to weather the RNC next month.

— Paul (PJ) Rieckhoff (@PaulRieckhoff) June 20, 2016
I'm so happy for Cleveland to be able to savor this moment before the RNC descends next month

— Stacey Burns (@WentRogue) June 20, 2016
Congrats to Cleveland Cavs! And Im happy for the city of Cleveland. This victory almost makes up for them having to host Trump at RNC

— (((DeanObeidallah))) (@Deanofcomedy) June 20, 2016
WaPo wrote the breathless report on Cleveland's acquisition of the convention before Donald Trump tore the party apart, of course. Still, it may not be that the convention are inconvenient to the revelers so much as the revelers are inconvenient for the convention.
#BREAKING: LeBron banner WILL stay up until the #RNC. #ALLin216 #cleveland #LebronJames pic.twitter.com/wddGI9V0gd

— Mike Brookbank (@brookbanktv) June 20, 2016
A week ago, when word came out that there would be a sixth game in the championship series and that the Quicken Loans Arena would be used for it, there was a scramble to accommodate the basketball game during time that was supposed to be used to get the venue ready for the onslaught of Republicans. It usually takes six weeks to prep the RNC location; now they have four weeks. As evidenced by the tweet above, neither arena officials nor Cleveland fans are too concerned about cutting the celebrations short for the RNC.
Priebus, at least, is spinning the win positively. He released a statement that looks like this:
New RNC statement on Cavs' win ends "this team is just the first winner Cleveland will produce this summer!" pic.twitter.com/2yUy6izAdW

— Kyle Griffin (@kylegriffin1) June 20, 2016
Best of luck to everyone scrambling to get the arena conference-ready before July 18 and best of luck to local authorities who will spend this month contending with riotous street celebrations and next month dealing with whatever happens at that convention.
Have a tip we should know? tips@mediaite.com