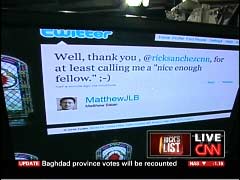 NBC's local stations group, NBC Local Media, has plans to corner the market (each of the top ten markets in the U.S. where NBC owns local stations, that is) on Twitter.
As Michael Malone writes in Broadcasting & Cable, plans call for identifying 20 top Twitterers in each city (they'll be dubbed "The 20″…ooooh) and network with them to discuss trending topics.
Will Chicago's best Twitterers be harnessed to drive traffic to WMAQ's local newscasts? Will they appear on camera, or just via tweets shown on large, John King-style magic walls? So many questions… where is ex-CNN Twitter-guru Rick Sanchez when we need him?

Here's what NBC Local does say about the idea:
"In the age of social media, 'voice' is democratizing, with fresh new perspectives about important issues facing local communities," said Greg Scholl, president of NBC Local Integrated Media. "'The 20′ will connect these relevant new voices with NBC's local broadcast and online audiences to facilitate discussion and debate, and help to shape local media coverage."

The 20 Twitter studs in a given market will change periodically as new voices emerge.

"It's incredibly valuable when partners like NBC Local Media act as curators," said Chloe Sladden, director of media partnerships at Twitter, "finding and showcasing great local voices."

NBC Local Media is designating social media editors to help with the "20" searches in each of its 10 markets.
Twitter "studs," eh? It all sounds so cool, with all the talk of "curators" and such, that I'm not sure it matters whether I have any idea what this idea is all about or not. But hey, I do intend to tweet about it!
Have a tip we should know? tips@mediaite.com