Nevada Journo John Ralston: 'I Did Not See Chairs Thrown,' Eyewitnesses Saw It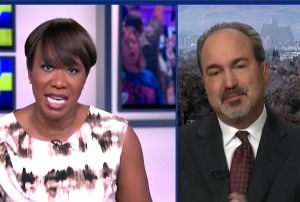 The chaos that ensued at last weekend's Nevada Democratic Convention continues to be a point of contention among Democrats and Bernie Sanders supporters, particularly on the question of whether chairs were thrown. On Saturday morning's edition of AM Joy, venerated Nevada political journalist John Ralston clarified to anchor Joy Reid that although he tweeted about the chair-throwing, he didn't actually witness the alleged incidents himself, but rather heard about it from eyewitnesses:
I did not see chairs thrown, but I talked immediately afterwards to eyewitnesses who said chairs were thrown. There were people onstage, the executive director of the Democratic party, and his staff saw chairs being thrown. Why do people think this convention was shut down? But again, that is a distraction. There are plenty of people, eyewitnesses who saw chairs thrown. That's a distraction by the Sanders people. They did rush the stage. There was chaos. I had never used the word violence. I'm not sure there was actual violence, although there's video of people on the floor, I don't know how they got on the floor because of the melee that occurred. But I never said anybody was hit by chairs. People were upset. Eyewitnesses saw chairs being thrown but again, I think they are focusing on that one thing to distract from a very simple fact, Joy. They lost.
To Ralston's points, there is video of a Sanders supporter "lifting a chair in frustration," but not of an actual throw, and there are at least four confirmed eyewitnesses on record, including state party officials and another journalist who was at the event. In the aftermath of the convention, which included profane and violent threats against Nevada Democratic Chair Roberta Lange, NPR's ombudsman criticized its reporting for references to "violence," and appended one story with a correction from "throwing chairs" to "brandishing."
This is an opinion piece. The views expressed in this article are those of just the author.