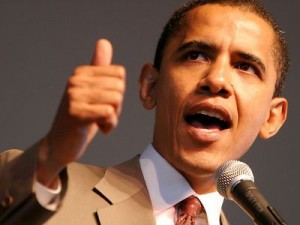 A new Gallup Poll released today finds that, if it were to be held today, the 2012 presidential election would be a close one with President Barack Obama matched closely against each of the four possible Republican opponents. Obama led against Ron Paul and Michele Bachmann by two and four percentage points of perspective voters, respectively, while Mitt Romney edged him out by two percentage points. Obama and Perry stood tied, each earning 47 percent of registered voters prospective tallies.
Although the actual election remains more than a year away, these sorts of numbers indicate a relatively competitive field, "with voters fairly evenly divided in their preference for giving Obama a second term or electing a Republican candidate." Hopeful, however, for White House reelection efforts is notable lack of a strong, Republican front-runner.
Writing for Gallup, Frank Newport reports:
President Obama's job approval rating is hovering around the 40% mark. This is below the rating that any of the six incumbent presidents re-elected since Eisenhower has had at the time of the presidential election. However, in August of the year before they were re-elected, Ronald Reagan (43%) and Bill Clinton (46%) were both below 50%. Obama's position of rough parity against leading GOP candidates shows that more Americans at the moment say they would vote for Obama than approve of the job he is doing — perhaps a reflection of the continuing lack of a strong front-runner on the Republican side.
Moreover, polls found that registered voters still display strong allegiance for their party's candidate, Democrats voting for Obama, while Republicans, although to a slightly more varying degree, voting Republican regardless the candidate. Newport ultimately points out that, "Gallup research shows that these types of election measures at this stage in the campaign are not highly stable, and one can expect changes in the relative positioning of Obama and various GOP candidates in the months ahead." So perhaps it's still too early in the race to be relying heavily on such results.
Have a tip we should know? tips@mediaite.com