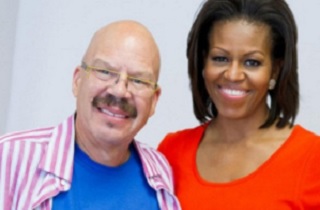 What a difference twenty years makes. In 1994, then-First Lady Hillary Clinton was trying, ultimately unsuccessfully, to pass comprehensive health care reform, but in 2014, First Lady Michelle Obama is on the road promoting Obamacare, the health care reform law that went into full effect this year. On the nationally syndicated Tom Joyner Morning Show Friday morning, the First Lady talked to host Tom Joyner about the Affordable Care Act, Black History Month, and how to get the message of health care reform out to the black community.
After wishing the First Lady a Happy Black History Month, Joyner and co-host Sybil Wilkes asked Mrs. Obama about her efforts to encourage people to sign up for health insurance through the Affordable Care Act. "You're on the road and you're talking a lot about the Affordable Healthcare Act," Wilkes said.
The First Lady noted that the focus of Black History Month "is not just the progress we've made, but to remember how much more work we have left to do. And we need to focus on increasing opportunity for everybody. And for this administration, it means healthcare through the Affordable Care Act. It means economic mobility. It means helping our young men of color. It means making sure more kids have access to college and it's affordable. So that's what we're going to be focusing on, not just this month, but for the rest of this administration, and making sure that people are signing up for healthcare is critical."
Mrs. Obama added that "one in five folks in the black community are uninsured," and that she "grew up in a household where my father and grandfather would pride themselves on never going to the doctor, right? It wasn't always a good thing."
Wilkes asked about the Healthcare.gov website. The First Lady described it as "improved," and added that "we've talked to a lot of people who found that going on it it's easy, the language on the website is easy to understand."
Mrs. Obama also pushed back against some of the opposition to Obamacare, pointing out that "the website provides people with access to private insurance plans. There's a myth out there that somehow the ACA is about government insurance. But this is just giving people options to affordable plans where private insurers are competing with each other, and because they're competing and everybody could look and understand what one insurance plan is offering versus another, it makes them more competitive, which means that the costs come down."
The First Lady also focused on the so-called young invincibles that are key to the program's viability. "I'm trying to tell young people you have to insure your car in this country, correct? Why do we treat our cars better than we treat our bodies?"
She added that if "there's somebody in your life, a young person in particular, who thinks 'Nah, I don't need it, I don't want to spend that money,' you got to shake them and make them understand that this isn't a joke."
"So that's one of the things I'm doing this February," she concluded. "What are you all doing?"
"Well, we celebrate black history every day," Wilkes said.
"Every day," the First Lady agreed. "That's what I tell my kids every day. Because our young people have to, you know, they have to understand where we come from in order to know where we gotta go."
Here's the clip, from The Tom Joyner Morning Show:
(h/t TRS)
Have a tip we should know? tips@mediaite.com