New Photos of Kurt Cobain Suicide Scene Offer More Questions than They Answer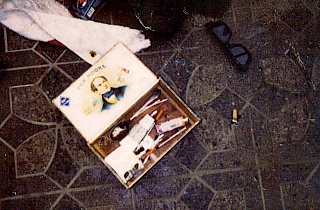 Nearly 20 years after the suicide of Nirvana frontman Kurt Cobain, the Seattle Police Department has finally put to rest a number of lingering mysteries surrounding the case. For example, did the infamously heroin-addicted rock star have access to heroin? And did he by chance smoke cigarettes? Also did he own a pair of sunglasses, and if so, how dirty was his floor?
Those are just some of the shocking revelations in a series of new photos from the crime scene of the singer's suicide that were unveiled last night by Cold Case Detective Mike Ciesynski, who was reviewing the file in preparation for the usual onslaught of media inquiries that come up every year on April 5.
"We knew with the 20th anniversary coming up and we knew there was going to be a lot of media interest," Ciesynski said. "I've been a detective in homicide for 20 years and I've been in the cold case unit for 10 years. Most of the cases I work on, I look for something that wasn't done [in the investigation] in the past."
Ciesynski came across four rolls of film from the original investigation that had never been developed. Not amongst the photos, you'll be surprised to learn, was any evidence of a crazy-eyed blonde lady hiding in the bushes with a rifle. Sadly, much like most of the photos the rest of us take of anything, they turned out to be boring and poorly lit.
There's nothing to see here, in other words. And while the detective says he can understand the continuing allure of the conspiracy theories, the case will not be reopened. "They're all very interesting," he said of some of the documentaries that have been released about the death. "I can see why people have questions [about the case], but you can always point to something and say 'what if.'"
"Sometimes people believe what they read—some of the disinformation from some of the books, that this was a conspiracy. That's completely inaccurate," he says. "It's a suicide. This is a closed case."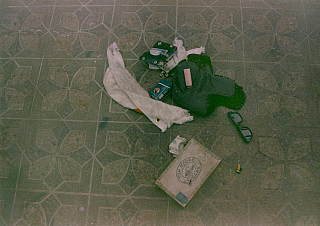 Cobain's widow, Courtney Love, has been busy of late solving another enduring mystery, namely what happened to Flight 370?
Wait a second. Why is Love so obsessed with tracking down Flight 370, a plane whose flight number is just 343 more than the age at which Cobain died, and departed from a country which he had likely heard of once or twice? And is that a leather aviator style hat shown in the pictures from the crime scene? Is it a coincidence that Kurt Cobain is an anagram for Cabin Tour, k?
We may never know the answers to any of those questions, but one thing we do know, however, is who is going to write the single worst lede of the year about this, or any other story. It's CNN!
(CNN) — "And I swear that I don't have a gun."

— Kurt Cobain, "Come As You Are"

Despite the pledge in those lyrics that went around the world in the early 1990s, police in Seattle say that Kurt Cobain did have at least one gun.

A shotgun. And he killed himself with it at age 27, their case concluded. Nothing has changed about that assessment 20 years after his death.
"All Apologies," to CNN, but your reporter seems to have "Tourette's" and is "Dumb," writing a lede that "Blew" that we will all "Scoff" at.
[Images via Seattle Police Department]
— —
>> Luke O'Neil is a journalist and blogger in Boston. Follow him on Twitter (@lukeoneil47).
Have a tip we should know? tips@mediaite.com