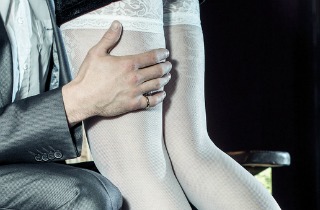 A&E is currently developing a new reality show tentatively called 8 Minutes. And no, the premise is not "7 minutes in heaven plus one additional minute." It's about a cop-turned-pastor who has eight minutes to convince a prostitute to give up their line of work.
No, seriously.
Here is how Entertainment Weekly explains the premise of the show: "Kevin Brown surprising escorts in hotel rooms and offering to rescue them from a life of trading sex for cash."
And this isn't something new that A&E came up with, Brown has been doing this kind of work for a while. He doesn't like how women are treated in those situations, so he finds prostitutes he believes are being abused and tries to help them.
Here's how show EP Tom Forman explains why Brown has just eight minutes (and no, it not because it's a fun reality show gimmick):
In his experience, she's got eight minutes in which she could return to her pimp and say, "I got a bad feeling about that guy, he backed out, I thought he was a cop," without having the pimp come looking for her, which could create a dangerous situation for Kevin and his team. So for her safety and theirs, it's a self-imposed hard deadline. They've got eight minutes to talk her out of prostitution. If she says yes, that's great. If after eight minutes she hasn't, they give her a phone number and tell her they'll always be there, but they cut off the intervention.
The reactions, he says, have been varied. Some women have been grateful for the opportunity; others have turned them down completely.
[image via Shutterstock]
— —
Follow Josh Feldman on Twitter: @feldmaniac
Have a tip we should know? tips@mediaite.com
Josh Feldman - Senior Editor