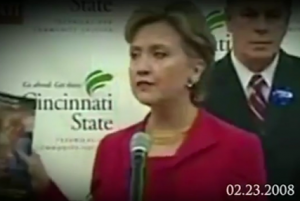 In a new TV ad running in Ohio, Mitt Romney's campaign features a somewhat unexpected politician attacking President Barack Obama: Hillary Clinton, the current Secretary of State and former Obama rival. According to POLITICO, the ad uses 2008 footage in which Clinton said, "Shame on you, Barack Obama."
The footage is from Clinton's campaign stop in Ohio with then-Gov. Ted Strickland. At the time, she had denounced Obama and his campaign for "perpetuating falsehoods." The clip is meant to convey that Obama's attacks against Romney are "just not true." That he used the same kinds of "vicious lies" against former opponent Clinton.
Specifically, the ad notes the Washington Post's "Fact Checker" response to Obama's previous ads that singled out what their campaign claims is Romney's record as an outsourcer. The Post gave the ads four Pinocchios.
The ad's script, via POLITICO:
NARRATOR: Barack Obama's attacks against Mitt Romney: they're just not true. The Washington Post says, 'On just about every level, this ad is misleading, unfair and untrue.' But that's Barack Obama. He also attacked Hillary Clinton with vicious lies.

CLINTON (file footage): He continues to spend millions of dollars perpetuating falsehoods.

NARRATOR: Mitt Romney has a plan to get America working. Barack Obama? Worst job record since the Depression.

CLINTON (file footage): So shame on you, Barack Obama.

ROMNEY (voice-over): I'm Mitt Romney and I approved this message.
That's one way to push buttons. It certainly won't sit well with them — and it's hard to imagine it not eliciting a response from Team Obama and/or Clinton.
Here's the ad:

(H/T POLITICO)
Have a tip we should know? tips@mediaite.com