New York Atheists Disapprove Of 'Seven In Heaven' Street Sign Commemorating 9/11 Victims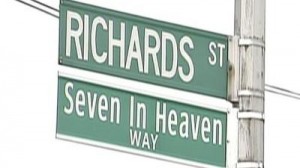 Various atheist groups have banded together, asking the city of New York to remove a sign using a religious reference to honor victims of the 9/11 terrorist attacks. "Seven in Heaven Way" is a Red Hook, Brooklyn street dedicated to seven local firefighters who lost their lives in the attacks. But Ken Bronstein, president of New York City Atheists, finds the sign insulting to those who don't believe in God or Heaven and recently told Fox News Radio that "there should be no signage or displays of religious nature in the public domain." David Silverman, president of American Atheists, agrees, adding that the concept of Heaven is "specifically Christian" and that the victims of the 9/11 attacks were not solely Christians:
All memorials for fallen heroes should celebrate the diversity of our country and should be secular in nature. These heroes might have been Jews, they might have been atheists, I don't know, but either way it's wrong for the city to say they're in heaven. It's preachy.
Gothamist reports that Silverman also complains the sign "links Christianity and heroism."
Mike Schweinsburg, the spokesperson for City Councilmember Sara González gave Gothamist an alternate take on the sign's name:
The seven heroes have long been known as the "Seven in Heaven." That's something that we didn't have any hand in, it is the way the community and their families chose to remember them. So if that is their desire then we are happy to continue to remember them in the way that their family and fellow firefighters prefer to call them.
Richard Land, president of the Southern Baptist Convention's Ethics & Religious Liberty Commission, asks how far this separation should extend, noting that cities like Los Angeles and Corpus Christi also carry religions names.
So far, the city has no intention of removing the sign.
h/t FoxNews.com
Have a tip we should know? [email protected]