Beck On Chris Christie: 'He Can't Control His Own Diet, How Can He Control' Climate Change?'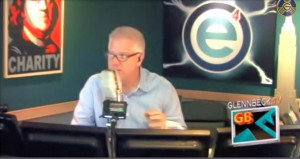 Could this be the official end of the honeymoon period New Jersey Governor Chris Christie was enjoying with conservatives? Or as Glenn Beck describes it, Christie's recent statements on climate change should serve as a "cold shower for Chris Christie lovers" everywhere.
Despite the fact that Christie's recent "none of your business" outburst is viewed by many as "conservative porn" because of his unique no-nonsense attitude, Beck goes after Christie here since "truth has no agenda." Christie's offending statement:
"Climate change is real and its impacting our state. . . . When you have over 90% of the world's scientists who have studied this, stating that climate change is occurring and that humans play a contributing role, it's time to defer to the experts."
Beck was extremely disappointed to hear Christie believe all this scientific mumbo jumbo and declared "climate change is the most ridiculous thing I've ever heard," since the climate is always changing! Yet if admitting humans might be contributing to climate change was bad, Christie's next statement seems like a completely unforgivable sin in Beck's eyes.
In the audio clip, Christie promised "no new coal permitted in New Jersey" because of coal's impact on the environment. Beck's sidekicks chimed in with their disgust, suggesting "Christie is actually worse on that issue than Obama is" and wondering "how did this fatso get elected?" Beck then also resorted to a joke about Christie's weight asking "he can't control his own diet, how can he control the temperature?" Given that Rush Limbaugh recently trashed Mitt Romney for also believing the "hoax" of man-made global warming, it seems that in conservative circles Christie may no longer be invited to sit at the cool kids lunch table.
UPDATE – Earlier in the show Beck and his crew discussed how supportive they were of Christie on other issues and how advertisements from New Jersey teacher unions were unfairly critical of Christie's personal wealth. Therefore, Beck's mocking of Christie's weight here, was apparently an attempt to parody such over-the-top campaign ads.
Listen to the clip below from The Glenn Beck Program:

Have a tip we should know? tips@mediaite.com