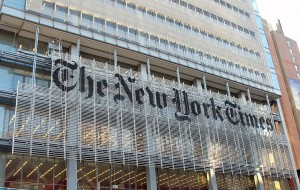 The New York Times today features an editorial supporting the aims of the protestors gathering on Wall Street and elsewhere, arguing that they are a representation of Americans who feel the deck is being stacked against them in this current economic climate.
The first focus of the editorial is on how the protests have been received in the "chattering classes." Plenty of Republicans and several members of the mainstream media have offered up less-than-supportive words for Occupy Wall Street and claim that the protests lack a coherent message, but the Times argues the key message of the protests is "that no one in Washington is listening."
At this point, protest is the message: income inequality is grinding down that middle class, increasing the ranks of the poor, and threatening to create a permanent underclass of able, willing but jobless people. On one level, the protesters, most of them young, are giving voice to a generation of lost opportunity.
However, despite the large number of young people involved in the protests, the editorial sees this as more than just a "youth uprising." The Times agrees with the protestors in saying that "the financial sector… inflated and profited from a credit bubble that burst, costing millions of Americans" their livelihoods.
We've certainly seen protestors unsure or unaware of specific economic policies, but continuing to criticize the political and media naysayers (of which there are many), the Times points out that these protestors are not in a position to make policy, they're just giving a voice to the "discontent" many Americans feel.
It is not the job of the protesters to draft legislation. That's the job of the nation's leaders, and if they had been doing it all along there might not be a need for these marches and rallies. Because they have not, the public airing of grievances is a legitimate and important end in itself. It is also the first line of defense against a return to the Wall Street ways that plunged the nation into an economic crisis from which it has yet to emerge.
Previously, Times columnist Nicholas Kristof predicted the Occupy Wall Street protests would lead to a situation similar to Tahrir Square.
Have a tip we should know? tips@mediaite.com
Josh Feldman - Senior Editor