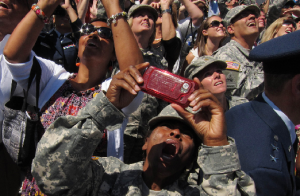 New York Times correspondent Sabrina Tavernise had the assignment of covering an event Wednesday at Walter Reed Army Medical Center in Washington. She's used to working with Times photographers, but never expected to see the face of Joao Silva, the Timesman who lost his legs and suffered massive internal injuries when a land mine exploded underneath him in Afghanistan last fall. As David Dunlap and James Estrin write in today's Times, Tavernise "spotted a very familiar face in the crowd. Mr. Silva, wearing a T-shirt with the exclamation 'Pow!' written across the front, was already on the scene. He was smiling. He was walking on his prosthetic legs. And he was taking pictures." One of those pictures (above) is featured on the front page of today's paper.
Silva's been treated at Walter Reed since October, and NYT director of photography Michele McNally thought of him when she was assigning a photog to cover Wednesday's event. "I went to David Scull, the national picture editor, and said: 'Joao's there and has his equipment. Why don't we assign him?' It turns out that Joao was already shooting it."
According to the Times, Silva's not fully recovered, but unwilling to let a good story slip by:
Although Mr. Silva can walk, he still needs a cane, which he holds in his right hand. When he wants to shoot, he must transfer the cane to his left arm so he can pick up the camera. He also conceded that he was frustrated about not yet being able to move as nimbly as he once could. But all in all, he said he was happy with his first day's work.

"It was a matter of making the best of what I had," he said. "There will come a time when I can run, but now I can walk."
And as for running, Silva's signed up for the New York City Marathon in November. Seriously. Rock on, Joao!
Have a tip we should know? tips@mediaite.com